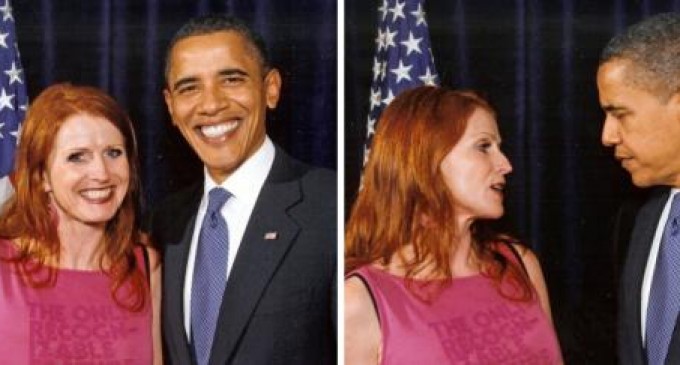 Obama bundler Jodie Evans and Code Pink, the leftist group she co-leads, have been working with terrorist group, al Karama.
Al Karama's founder and current president, Abdul Rahman Naimi, was designated as a terrorist and al Qaeda supporter by the U.S. Treasury Department in December.
The lines between our government and 'terrorists' are becoming more and more blurry. Are there any lines anymore?
Obama bundler Jodie Evans and Code Pink, the leftist group she co-leads, have been found to be working with a group whose leaders have recently been declared terrorists and al Qaeda supporters by the Treasury Department.

This is not the first time the Democratic Party allied group has been caught in bed with terrorists. As this writer has reported over the years, Code Pink works with terrorists, state sponsors of terrorists, the Democratic Party and President Barack Obama against the United States in the war on terror.

This most recent Code Pink tie to terrorists involves al Karama, a so-called human rights group. A report published this week by the Washington Free Beacon about Rep. Alan Grayson (D-FL) scheduling a meeting with a representative from the al Karama in November about the Obama administration's use of armed drones to kill suspected terrorists prompted an examination by this writer of Code Pink's alliance with al Karama.

Mohammad Al Ahmady, the Yemen director for Geneva-based NGO Al Karama, was expected to brief Reps. Alan Grayson (D., Fla.), Barbara Lee (D., Calif.), and Jan Schakowsky (D., Ill.) the morning of the Nov. 19, according to press release from Grayson's office.

Ahmady, who also serves as a top official in an al Qaeda-linked Yemeni political party, did not attend because of visa issues. The State Department said it could not comment on visa matters.

Several Al Karama officials have faced terrorism allegations. Al Karama's founder and current president Abdul Rahman Naimi was designated as a terrorist and al Qaeda supporter by the U.S. Treasury Department in December, along with the group's Yemen representative Abdulwahab Al-Humayqani. Al Karama's legal director, Rachid Mesli, is currently wanted for terrorism charges in Algeria.

Unreported by the Free Beacon was that the meeting was likely arranged by Code Pink, which has worked with Grayson in the past, and had hosted an anti-drone conference in Washington the previous weekend. Also unreported by the Free Beacon was Code Pink's history of working with al Karama in Yemen.

The Free Beacon report keys off a press release by Grayson that listed the anti-drone delegation that was to meet with him, Rep. Barbara Lee (D-CA) and Rep. Jan Schakowsky (D-IL). Most of the delegation that was listed on the press release was also listed as speakers at Code Pink's anti-drone conference.

WHAT: Congressional briefing on U.S. drone strikes in Yemen

WHO: Reps. Alan Grayson, Barbara Lee, and Jan Schakowsky

Faisal bin Ali Jaber, a Yemeni civil engineer whose brother-in-law and nephew were killed by a drone strike

Entesar al Qadhi, Yemeni Politician from Mareb, a frequent location for drone strikes

Baraa Shiban, Yemen Project Coordinator for Reprieve

Mohammad al-Ahmady, lawyer and Director of the Yemen division of al-Karama, an independent human rights organization

Robert Naiman, Policy Director for Just Foreign Policy

WHEN: Tuesday, November 19, 2013 at 4:00 p.m.

WHERE: 2456 Rayburn House Office Building

A spokesman for Grayson told the Free Beacon Mohammad al-Ahmady did not attend the meeting and noted that the terrorist designation for al-Ahmady's group al Karama was not in place at the time the meeting was scheduled.

Last June, Code Pink traveled to Yemen and met with the father of slain al-Qaeda spiritual leader Anwar al-Awlaki. While in Yemen with Code Pink, Obama bundler Jodie Evans sought donations for families of drone victims and Yemenis held at the U.S. terrorist detention facility at Guantanamo Bay, Cuba.

Code Pink also worked with al Karama while in Yemen, according to report on al Karama's website.

Yesterday, 17 June 2013, Yemeni and American activists organized a sit-in in front of the American embassy in Sanaa to protest against drone attacks in the context of American counter-terrorism policy, and to denounce the inability of the Obama administration to close the Guantanamo Bay detention facility. This campaign, launched under the slogan "Human Dignity" in April 2013 by Alkarama and other human rights organizations in Yemen, aims for the closure of Guantanamo and Bagram detention centers. Several members of Code Pink, a pacifist American organization, joined Alkarama and Hood yesterday to show their support to the families of Guantanamo detainees and pay a tribute to the victims of American airstrikes.