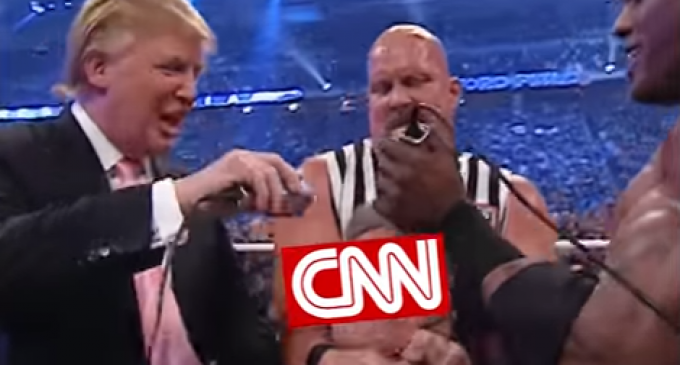 After President Donald Trump tweeted a funny meme of him wrestling a figure with the CNN logo superimposed on his head, CNN unleashed its investigative team (KFile) to track down the Reddit user who created the video.
Proving it's no longer a serious news network, CNN located the user and threatened to reveal his identity if he didn't apologize. It also revealed the network brass and alleged talent have absolutely no sense of humor. They can dish it out, but sure can't take it.
The "culprit" allegedly apologized and promised not to make any more spoof videos mocking CNN. As the network reported, he would not "repeat his ugly behavior again on social media." CNN proudly tweeted out the news of its crack KFile investigation team tracking him down and arrogantly announced it reserves "the right to publish his identity."
Laughter erupted across Twitter as a multitude of amateur video makers created their own edited GIFs and videos mocking CNN and showing President Trump vanquishing a host of CNN "villains."
Learn the hysterical reaction of CNN's thumb-sucking anchors and how severely they're being roasted on Twitter and across social media. The fun begins on the next page.