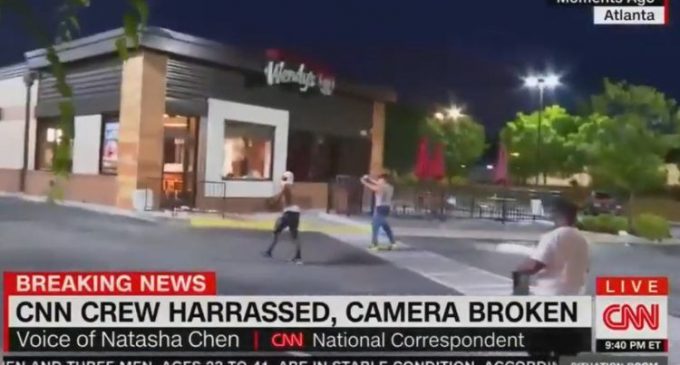 Protests and destruction erupted in Atlanta on Saturday evening in response to the police-involved shooting death of Rayshard Brooks, 27, at a Wendy's parking lot.
Authorities on Friday responded to a complaint of a male in a vehicle "parked in the drive thru asleep, causing other customers to drive around the vehicle." After Brooks failed a sobriety test officers tried to take the man into custody, but he "resisted and a struggle ensued." Brooks "grabbed and was in possession of" a taser deployed by police.
"It has also been reported that the male subject was shot by an officer in the struggle over the Taser," Georgia Bureau of Investigation's statement on the incident stated. Videos of the scene "indicate that during a physical struggle with officers, Brooks obtained one of the officer's Tasers and began to flee from the scene."
"Officers pursued Brooks on foot and during the chase, Brooks turned and pointed the taser at the officer. The officer fired his weapon, striking Brooks," GBI said.
At 9:30 p.m. ET rioters filled the parking lot where police shot Brooks. Early Sunday, around 4 a.m. ET, the Wendy's was seen burning for a second time, according to Atlanta's WGCL-TV.
Atlanta's police chief has resigned over the incident. Find details on page 2.