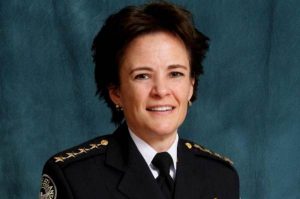 Atlanta Mayor Keisha Bottoms announced the resignation of police Chief Erika Shields Saturday afternoon following the deadly police shooting of Rayshard Brooks, 27, after he resisted arrest and pointed a taser at an officer Friday night.
Shields had served as police chief since December 2016. She will continue with the department in a role yet to be determined.
"Chief Erica Shields has been a solid member of APD for over two decades, and has a deep and abiding love for the people of Atlanta," she continued. "And because of her desire that Atlanta be a model of what meaningful reform should look like across this country Chief Shields has offered to immediately step aside as Police Chief so that the city may move forward with urgency and rebuilding the trust so desperately needed throughout our communities."
What the country needs are strong authorities with a good moral compass that won't waver in the face of temper tantrums by social justice warriors or those who use situations like this one in Atlanta to cause mayhem. If Shields isn't of such character, best to step down.
Georgia Bureau of Investigation released video of the shooting:
A second video showing Rashard Brooks resisting arrest and pointing the stolen taser gun at police:
#BREAKING: CNN crew attacked by protesters outside Wendy's in #Atlanta where a Black man was shot by police. CNN it's time to send your crews out to record w/ phones becuz a big TV camera attracts those who want to do you harm. #AtlantaPolice #BLM pic.twitter.com/nZMM8J6hBs

— Rebecca Aguilar (@RebeccaAguilar) June 14, 2020