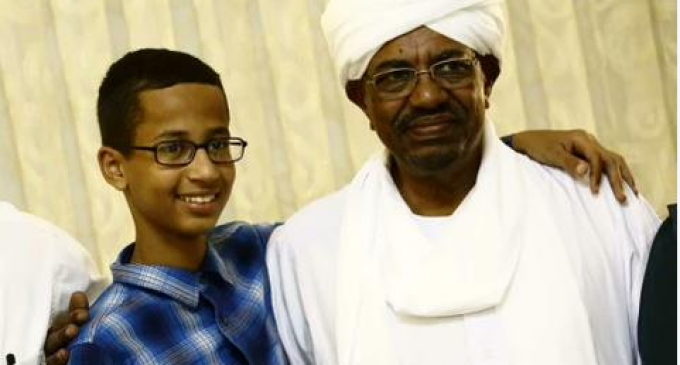 Apparently Ahmed Mohamed, the clock bomb boy, has trouble telling time, because his 15 minutes of fame were finished a long time ago. Yet he continues his showboating, flaunting his true colors by happily posing with Sudan's genocidal dictator on Oct. 13.
That visit may highlight Barack Obama's own theocratic ambitions. Obama's science deputy personally invited the boy to an Oct. 19 science fair in the White House.
Mohamed was invited to the White House after a coordinated effort by progressives and the media to foist and broadcast his hoax claim that the arrest was prompted by anti-Muslim and anti-African views supposedly prevalent among the Irving police department. Which is amusing since photos show the two arresting officers are both black.
The boy's hug for the genocidal Muslim theocrat prompted much criticism among his progressive supporters. Read more about the clock boy's embrace of theocratic genocide on the next page: