On October 13, Ahmed, his sisters and his Sudan-born father flew out of Saudi Arabia into Sudan, a brutal, Islamic theocratic state that split into two states after waging a long war against Christian and tribal minorities in the south of the country.
The land is genocidal that the International Criminal Court has posted a warrant for Bashir's arrest. Good luck with that one.
How Islamic is Sudan? Bashir served as Osama bin Laden's host for several years. So, this guy is so distasteful that in March, Obama's Secretary of State, John Kerry, posed for a photo with Bashir, which tells you a lot about Kerry and his boss. And just like Clock Bomb Boy, the left wing nuts grew outraged that their liberal boys were slipping to the radical left of Islamic terror.
Source: Breitbart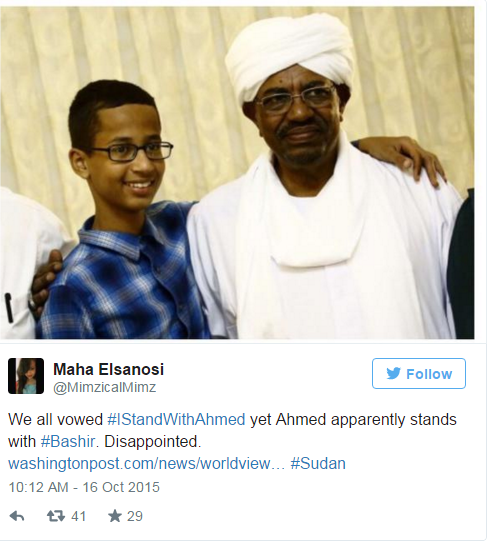 Back to Clock Bomb Boy: in a tweet he described the Sudanese hell hole as his "home."
I am coming home, tell the world I am coming home #sudan pic.twitter.com/DEO0acpYtN

— Ahmed Mohamed (@IStandWithAhmed) October 13, 2015
Ahmed, check the display on your clock bomb…it is time to say goodbye.