On May 22 US Customs and Border Protection (CBP) officers in Louisville, Kentucky seized over 10,800 assault weapons parts arriving from Shenzhen, China, and bound for a residence in Melbourne, Florida.
The shipment was seized on May 22. Officers inspected the item, which was arriving from Shenzhen, China, destined for a residence in Melbourne, Florida. The parcel was manifested as containing 100 Steel Pin Samples. This is a common practice of smugglers manifesting the contraband as a harmless or a legitimate commodity in hopes of eluding further examination.

"The importing of any type of munitions is regulated by the ATF," said Thomas Mahn, Port Director, Louisville.  "This smuggler was knowingly trying to avoid detection, however, our officers remain vigilant, ensuring our community is safe."

The Bureau of Alcohol, Tobacco, Firearms and Explosives (ATF) regulates and restricts firearms and ammunition. Importation of weapons or ammunition must be made by a licensed importer, dealer or manufacturer.

Officers referred the shipment to the CBP Center of Excellence and Expertise, Machinery team who appraised the shipment with a domestic value of $129,600.
10K assault weapons parts seized—CBP officers in Louisville recently intercepted over 10K assault weapons parts arriving from China in a shipment manifested as "100 steel pin samples." Learn more via @CBPChicago: https://t.co/KhqaSdoxFn pic.twitter.com/eBrCXpSLyB

— CBP (@CBP) June 28, 2020
This is hardly the first time China was busted smuggling such contraband into the US. From 1996:
Federal authorities began making a series of arrests Wednesday in an intensive investigation of China's two main state-controlled arms exporting companies for allegedly smuggling automatic assault weapons into this country, according to law enforcement officials.

The companies under investigation, called Poly Technologies and Norinco, lie at the heart of China's military-industrial complex. Poly Technologies, in particular, operates directly under the Chinese People's Liberation Army and has been run by the children of several of China's top leaders, including the son-in-law of China's ailing patriarch Deng Xiaoping.
From 2019:
Federal authorities suspect that thousands of machine gun conversion devices have been illegally imported into the United States from China, in some cases ending up in the hands of convicted felons, CNN has learned.

Agents with the federal Bureau of Alcohol, Tobacco, Firearms and Explosives are actively working to locate the devices and retrieve them.

Brad Engelbert, an ATF spokesman, described the nationwide recovery effort as a "high priority" for the agency, focused on those devices in the possession of "people who may be a danger to the community."
The latest seizure comes at a time when protests and violence have erupted across the country. The FBI currently has over 2,000 active investigations that trace back to the Chinese government!
Last week, FBI Director Christopher Wray revealed that the bureau is actively looking into the possibility of foreign influence or interference in protests in the United States, as previously reported by IBT.

"We have certainly seen in the past a variety of foreign adversaries looking to amplify controversy in this country," Wray said in an interview on Fox. "And they use state media. They use social media. Some of that is through propaganda, some of that's through disinformation, some of that's through just fake information."

"And we are looking carefully at the prospect of foreign influence or foreign interference in all the protest activities (that's) occurred over the last few weeks," he said, before noting that the FBI has over 2,000 active investigations that trace back to the Chinese government.
Black Lives Matter Co-Founder Patrisse Cullors has admitted that those running the movement are 'trained Marxists'.
Black Lives Matter Co-Founder Patrisse Cullors has just admitted what anyone who reads their documents already knows: the group is founded in Marxism. Cullors happily self-identifies as a 'trained organizer and Marxist' with various far-left objectives, that include not only defunding the police, but dismantling capitalism, the patriarchal system and the nuclear family structure.

"The first thing, I think, is that we actually do have an ideological frame. Myself and Alicia in particular are trained organizers," Cullors said. "We are trained Marxists. We are super-versed on, sort of, ideological theories. And I think that what we really tried to do is build a movement that could be utilized by many, many black folk."
One can only wonder to what extent China is forwarding the Black Lives Matter movement. They have already publically vocalized support. What other forms of support does China offer to BLM?
The People's Daily, the Chinese Communist Party's mouthpiece, published a cartoon portraying a White House tainted in blood and covered in tear gas. Standing on top of it is a crumbling Statue of Liberty, revealing her true identity as the police officer who kneeled on Floyd's neck and now faces murder charges for suffocating him to death. A Chinese foreign ministry spokesperson, Zhao Lijian, told reporters in a press conference, "The current situation reflects once more the severity of the problems of racism and police violence in the U.S."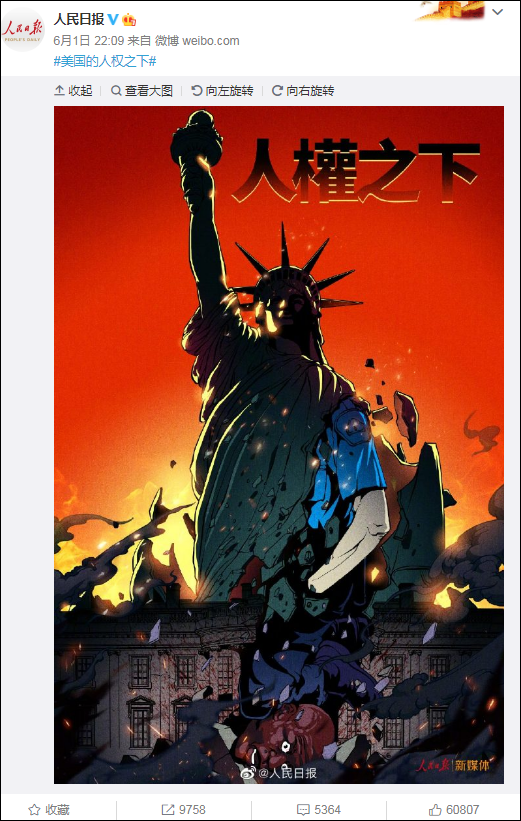 BLM has stated that they are mobilizing a highly trained military arm for war on law enforcement. Where do they get their guns?
A Black Lives Matter leader has declared war on the police and plans to release a blueprint for change that involves Black Panther style armed 'patrols' monitoring the behavior of officers on the streets, DailyMailTV can reveal.

Hawk Newsome, Chairman of BLM's Greater New York chapter, says the black rights group is 'mobilizing' its base and aims to develop a highly-trained 'military' arm to challenge police brutality head on.

In an exclusive interview, Newsome says the BLM movement has marched for years to wake people up to the realities of police brutality and oppression.
https://www.youtube.com/watch?v=5WCawLgThhc