Donald Trump wants his supporters to stop attacking minorities in the wake of his surprising win last Tuesday. The press would rather the attacks continue. That's probably why CBS decided to withhold Trump's plea when they released footage from his 60 minutes interview that was pre-taped and aired Sunday night.
CBS News is under fire for holding a videotaped clip from a Friday interview with President-elect Donald Trump urging supporters not to attack minorities until a "60 Minutes" broadcast on Sunday night.

"I am very surprised to hear that. I hate to hear it," Trump told interviewer Lesley Stahl when told of some attacks on minorities that have reportedly occurred since his election victory Tuesday.

"I am so sorry to hear it, and I say stop it," Trump said before looking directly into the camera. "And I say right to the camera, stop it."

"60 Minutes" did release quotes from the Friday interview in advance, but only a statement by Trump on the Affordable Care Act.
Just because Trump claimed victory over the rigged media doesn't mean they're going away now that he's president-elect. Trump may have won the battle, but the next four years are sure to be a war between a president trying to unite a torn country and a media attempting to stop his efforts in its tracks.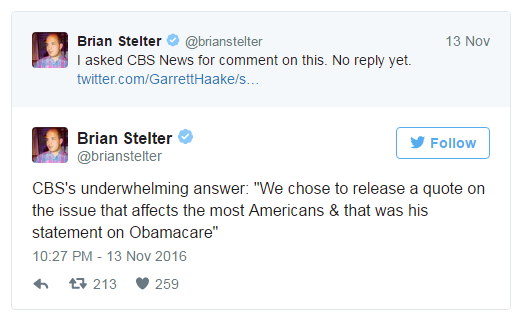 Source: The Hill