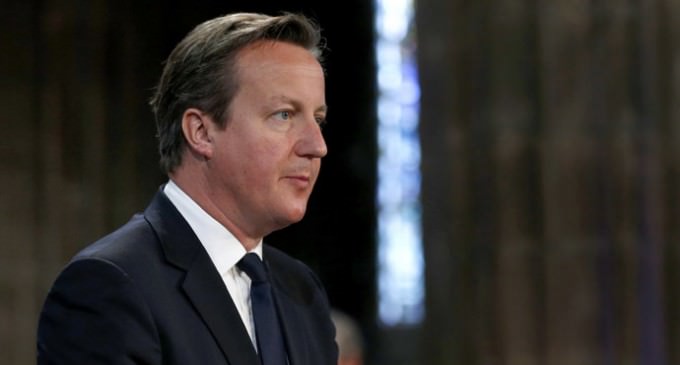 British Prime Minister David Cameron stated that the person that beheaded US journalist James Foley looks "increasingly likely" to be a British citizen because he speaks with a British accent.
But, he needs to make the assumption that the killer is British.
Just about all major countries have a failing economy, and when the economies finally fail citizens will be highly upset, to say the least.
So, in order to save their butts, governments are now making the case that there could be 'bad guys' in our own countries to justify bringing in more control of the population. That is, more police, more spying, more violations of your rights, etc. in order to 'keep you safe.'
The real story is that our own governments are creating problems that 'only they can solve' so you become more dependent on them, instead of retaliating for the crime of robbing the populace and destroying the economy.
This is why our own government here is now more concerned with 'domestic terrorists'.
Of course, Obama has completely opened our southern border and let true terrorists into this country….check and mate.
"We have not identified the individual responsible on the video but from what we've seen it looks increasingly likely that it is a British citizen. Now this is deeply shocking," Cameron told reporters on Wednesday.

James Foley was kidnapped in Syria at Thanksgiving in 2012 while working for the GlobalPost agency. In the video entitled 'A message to the US', the 40-year-old journalist denounces his country of birth with a knife to his neck through a speech presumably written by his captors – the Islamic State (IS, formerly known as ISIS) militants, who posted the video on YouTube.

At the end of the film, another US journalist who disappeared in August last year, Steven Joel Sotloff is paraded on camera as Foley's killer states: "The life of this American citizen, Obama, depends on your next decision."

The authenticity of the video was confirmed by the White House on Wednesday morning.

"We have reached the judgment that this video is authentic," National Security Council spokeswoman Caitlin Hayden said.

Before Cameron made his statements, British media widely identified the speaker in the Islamic State video as speaking with a British accent.

The Daily Mail, Telegraph and Guardian all recognized the masked militant's accent to be southern English, and intelligence agencies are reportedly attempting to ascertain the identity of the man.

UK Foreign Secretary Philip Hammond recognized the possibility and the potential danger in the situation on Wednesday.