Republican House Majority Whip Scalise, and 4 others, including 2 members of the Capitol Police were shot and injured at Simpson Baseball Field this morning. Reports also indicate the gunman was injured and also taken to the hospital.
The shooter was reportedly armed with a rifle and asked the people playing baseball if they were Republican or Democrat before opening fire.
If those reports are confirmed, the shooting would be one of the worst acts of political violence in the United States in decades. Though Democrats and the media rushed to blame the Tea Party for the mass shooting that nearly killed then-Rep. Gabby Giffords (D-AZ) in Tucson in 2011, the perpetrator was mentally disturbed and did not have political motivations.

Regardless of whether the gunman intended to kill Republicans specifically, if he asked about political affiliations before the attack, that would likely be enough to classify the event as an act of domestic terrorism.
President Trump immediately expressed concern and prayers for Salise but refrained from offering an opinion on whether the shooter should be prosecuted for domestic terrorism, as of yet.
Rep. Steve Scalise of Louisiana, a true friend and patriot, was badly injured but will fully recover. Our thoughts and prayers are with him.

— Donald J. Trump (@realDonaldTrump) June 14, 2017
Senator Rand Paul shares his eyewitness account of the shooting.
As does Senator Jeff Flake,
Rep. Steve Scalise's representatives have also released a statement on his behalf this morning following the shooting.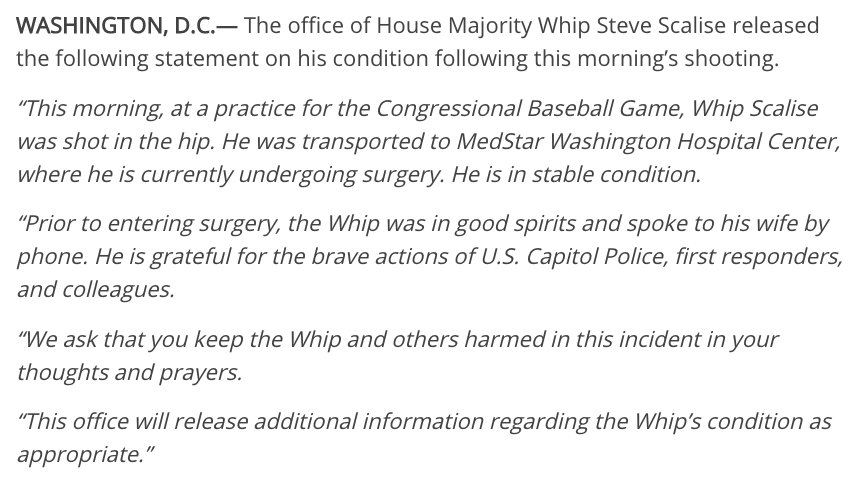 Isn't it just like the left to combat citizens right to bear arms by purposefully taking innocent lives to make a needless hypocritical point?
Source: Breitbart