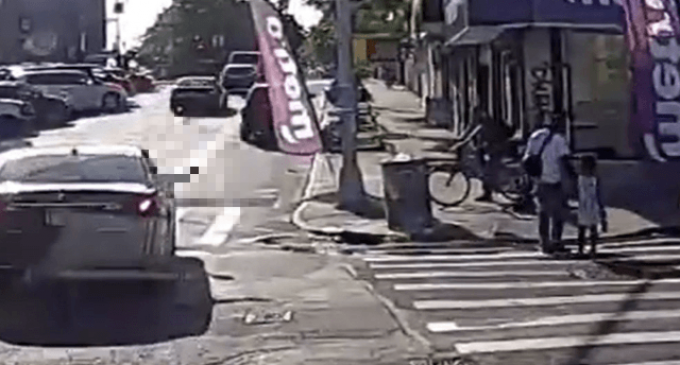 Horrifying video of a man getting shot while walking his 6-year-old daughter across a Bronx street has emerged.
The clip, released on Twitter by NYPD Chief of Detectives Rodney Harrison, shows Anthony Robinson, 29, holding his daughter's hand while approaching the intersection of Sheridan Avenue and East 170th Street in Mount Eden around 5:50 p.m. Sunday.
Robinson stops to eye a car to see whether the driver was going to pull into his path. Instead, the car continued and when the father and daughter nearly make their way out of the crosswalk the shooter sticks a handgun out of the passenger's window and opens fire, hitting Robinson in the chest.
After Robinson collapses to the ground the six-year-old daughter, obviously frightened but apparently unharmed, runs for her life.
The shooting was one of at least 49 across the city over a bloody Fourth of July weekend that claimed 8 lives, including Anthony Robinson's.
See page 2 for the clip.