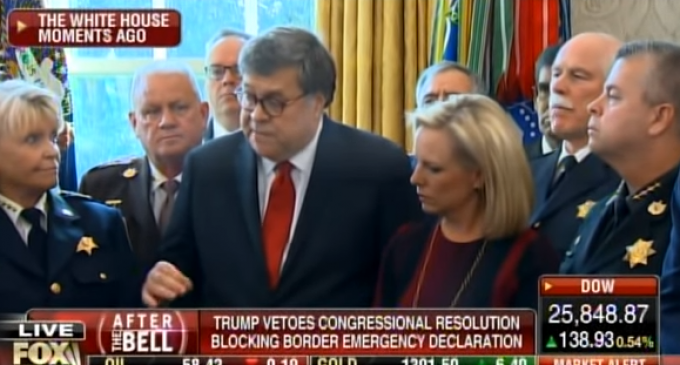 On Friday Attorney General Bill Barr supported President Trump's National Declaration to build a wall on our Southern Border.
Barr said: "Mr. President your declaration of an emergency on the southern border was clearly authorized under the law and consistent with past precedent. As you said the National Emergencies Act directly authorized the President, gives broad discretionary authority to the president identify and respond to emergent circumstances that require a decisive response. And, the humanitarian and security crisis that we currently have right now on the border is exactly the type of emergency that presidents are permitted to address under the National Emergencies Act. As you alluded to yourself in the past 40 years there have been 59 emergencies declared and many of these have dealt with political conditions in countries like Burundi, Sierra Leone, Belarus. The crisis that we're dealing with today is right on our doorstep and represents a real clear and present danger to the American people. So, what you've done from a legal standpoint is probably grounded in law and from the standpoint of protecting the American people it's imperative."
See Barr's well-spoken support of President Trump on the next page.