This is no surprise. Another Hollywood liberal against guns.
As the November 13 terror attacks in Paris were still ongoing actor Michael Ian Black used them to mock U.S. gun laws and to wish that the number of Americans who die in shootings could be as small as the number who were reported dead in Paris.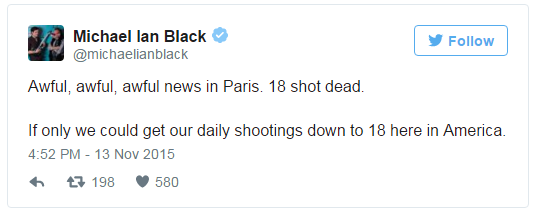 It seems Black could have at least waited until the conclusion of the hours-long terrorist attack to trivialize it's victims, but apparently the bait was simply too sweet for him to resist. Had he, he would have seen the death toll rise to above 150.
Regardless, its doubtful this would have changed this man's mind.
Source: Breitbart