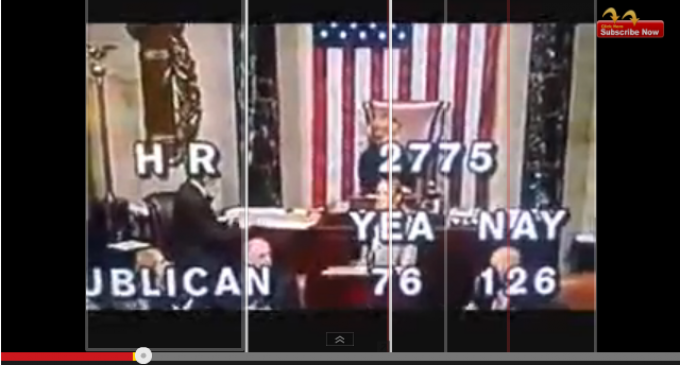 This woman must be tough. Not because she showed some kinda tenacity by getting in front of this real life cast from "The Walking Dead" and offering herself as a meal, but because she was able to hold all that in for 20 years!
A stenographer staged a bizarre performance on the House floor near the end of the debt ceiling vote last night, ranting about Freemasons before she was quickly dragged away by security guards.

Moments before House members passed a bill to raise the debt ceiling, a woman later identified as stenographer Diane Reidy approached the microphone at the Speaker's Lobby in a trance-like state and began to shout.

"He will not be mocked, don't touch me, he will not be mocked," Reidy ranted, adding, "The greatest deception here is this is not one nation under God, it never was."

Officials begin to remove Reidy as she screamed, "It never was, had it been, it would not have been….the Constitution would not have been written by Freemasons, they go against God, you cannot serve two masters."

"Praise be God, Lord Jesus Christ," she added.

Reidy also reportedly said "A House divided cannot stand — you are all sons of the devil!"

According to Rep. Joaquin Castro, the woman "had a crazed look" on her face. "It was very disturbing for the members of Congress," he said.

"I had passed her obviously all the time on the House floor, and she smiled a few times, she seemed nice, and according to other members who have been around longer, she seemed nice," Castro told reporters.