In an attempt to force Yale University to recognize a newly formed union for the student teachers, Local 33 members decided to go on a public "hunger strike" to shame the university president, Peter Salovey, into agreeing with their demands.
When word of this public "hunger strike" got out via fliers distributed by the union group, campus Republican students decided to help with the cause by sponsoring a huge barbecue.
The Republican group cooked up a meal of beef, baked beans, and corn on the cob for the local community, making certain that the wonderful aroma of the food wafted in the direction of the "starving" student teachers.
Asked about his reaction to the barbecue, Local 33 Chairman Aaron Greenberg told The New Haven Register, "I'm not really focused on that. I'm focused on making sure we have lots of water, make sure I'm healthy. We have a check in with our nurse this afternoon. We are focused on that."
Yes, I'm quite sure that blazing 50 degree weather was on the verge of causing those dehydrated student teachers to pass out and go into cardiac arrest.
It's also sort of ironic that an ultra-Leftist organization that has been indoctrinating its student body for the past 60 years to rise up and resist authority is now being harassed by the very people it has mentored for such activity.
Even more ironic is the fact that said university is now seeking Donald Trump's assistance to shield them from these very same Liberals.
Icing on the cake – woops, sorry about that hungry strikers!  Water?
Source:  Breitbart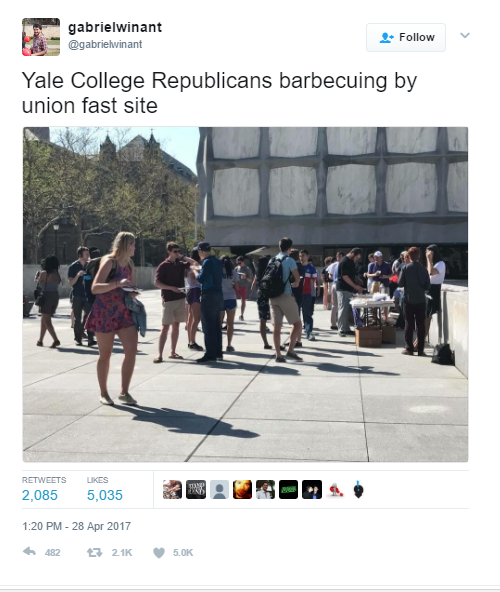 Yale College Republicans barbecuing by union fast site pic.twitter.com/qf687cckxB

— gabrielwinant (@gabrielwinant) April 28, 2017