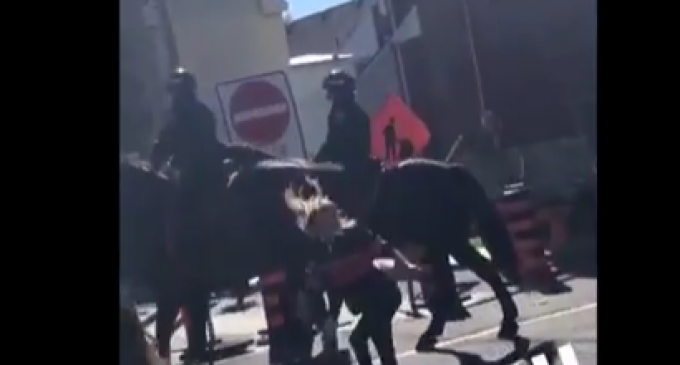 There's nothing more satisfying than seeing a brainwashed millennial get put in their place. That's not to say that all millennials are unintelligent. In fact, it would be unfair to even say that a majority of them are unintelligent. But if you've been watching the news lately or spent any time on social media, you might have noticed a majority of the protests and crying that have resulted from Donald Trump winning the presidency have been done by millennials. And it's not their fault. We have colleges and the Internet to thank for that.
Still, if somebody were to put a compilation video together of protests gone wrong, it would probably break the Internet. Because it seems like when things go wrong for brainwashed college kids, they really go wrong. In the case of politics, karma sometimes acts very quickly. This is evident in the young woman who decided to slap a police horse on the butt in hopes of . . . I'm not really sure what she was trying to accomplish. Perhaps she envisioned the horse taking off really fast and throwing its rider off the back like in cartoons and bad movies on Lifetime.
But no, not this time.
Find out what happened on the next page.