The transfer procedure called for Mueller to deliver the sample after his plane landed in Moscow to the Federal Security Service (FSB). The FSB is the successor organization to the Soviet Union's KGB. The cable further spelled out how the State Atomic Energy Corporation of Russia (Rosatom) would be involved.
Embassy Moscow LegAtt informed the FSB prior to Mueller's intended April delivery and received confirmation that the FSB would take custody of the sample after the Director's plane landed. EST Moscow also informed Rosatom of the planned transfer and that the U.S. placed a high priority on completing this transfer (Ref B). Once the LegAtt told FSB counterparts the April trip had been canceled, Ambassador Beyrle informed Igor Neverov (Ref C), who said that he understood but was disappointed the trip was postponed."
News of the Wikileaks disclosure has yet to draw much reaction from the mainstream media or hysterical Democrats.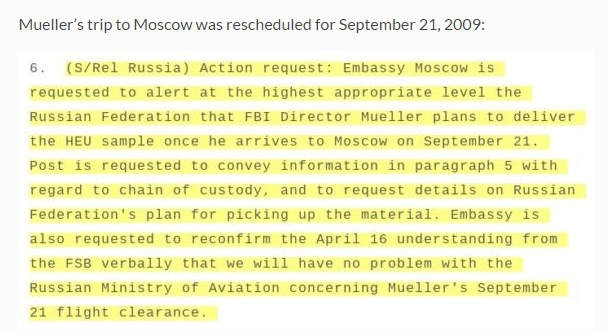 Source: The Gateway Pundit