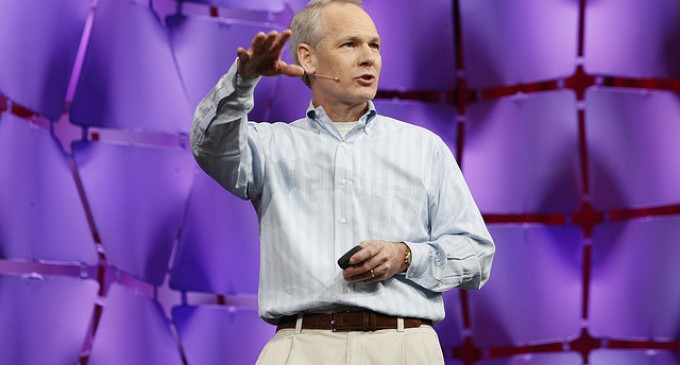 The administration has finally decided to look closer to home to help HHS wake from the nightmare of HealthCare.gov. That sounds pretty good, although it would've been an even better idea to do so before hundreds of millions were spent on the current malfunctioning system.
Politico reports:
The White House is tapping the private sector for its next point man to fix the troubled Obamacare website.

The administration is set to announce that Kurt DelBene, an executive at Microsoft, will succeed Jeff Zients in leading the overhaul of the embattled HealthCare.gov, according to four sources with knowledge of the decision.

DelBene is currently the president of the Microsoft Office Division and has been with the company since 1992. He is also the husband of freshman Rep. Suzan DelBene (D-Wash.).
Hopefully it will be DelBene's technical qualifications that count in his work on the troubled website and not only his political affiliations, but those affiliations are clear, if not extravagant.  DelBene doesn't dabble much in checkbook politics, according to Open Secrets.  Over three election cycles, he's donated $16,540 to Democratic candidates, with a little over half of that coming in the 2014 cycle.
As president of the Microsoft Office Division, Kurt DelBene is responsible for driving Microsoft's global productivity strategy for information workers. DelBene oversees the engineering and marketing functions for a wide range of productivity products and services, including Office, Office 365, Exchange, SharePoint, Lync, Project, and Visio.

Previously, he served as the senior vice president for the Microsoft Business Division, responsible for the development of client and server software that collectively delivers to organizations and individuals a holistic productivity experience, including authoring, collaboration, communications, information sharing, and project management. In this role, he oversaw development teams in the Office engineering organization including Office desktop applications, Office Web Applications, Microsoft SharePoint, Microsoft Exchange Server, Microsoft Office Communications Server and Office Labs.
What do you think? Will Kurt DelBene be able to help un-sink the ObamaCare website without costing the government even more money?
Source: Politico
Photo: Microsoft PDC on Flickr