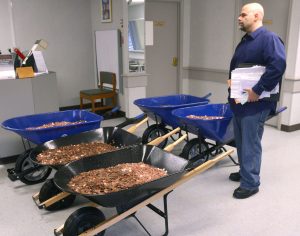 If there are any DMV employees reading this, no offense is intended. Unfortunately, the DMV simply has become somewhat synonymous with inefficient government bureaucracies. So, like it or not, there it is.
One man in Virginia recently spent an enormous amount of his time and some sum of money to make a point. It's a entertaining story, scripted by a man on a mission to expose the run-around he had gotten at the hands of the government.
Back in September, he [Nick Stafford] wanted to know which of his four houses spanning two Virginia counties he should list when licensing his son's new Corvette. He attempted to call the Lebanon DMV, but was routed to a call center in Richmond.
Seems like a reasonable question, and it seems odd that he could not contact his local office. Stafford was undeterred by the problem.
He then submitted a FOIA request — a submission under the Freedom of Information Act that citizens, journalists and others can use to obtain public government information — to get a direct number to the Lebanon DMV, which he was provided.

…

When Stafford called the number he was given, he said the employees at the DMV told him the phone line wasn't meant for public use. However, Stafford said after repeated phone calls, the DMV eventually answered his licensing question.
So, although he took an unusual route to get his question answered, he succeeded. Most of us would have left it there. Not this guy.
Stafford then decided he wanted the direct phone lines to nine other local DMVs: Abingdon, Clintwood, Gate City, Jonesville, Marion, Norton, Tazewell, Vansant and Wytheville. He said the Lebanon DMV employees wouldn't provide those numbers.

So, Stafford went to court to get them.

"If they were going to inconvenience me then I was going to inconvenience them," he said.

Stafford filed three lawsuits in Russell County General District Court: two against specific employees at the Lebanon DMV and one against the DMV itself.

On Tuesday, a judge dismissed the lawsuits at the request of the state when a representative of the state's attorney general handed Stafford a list of the requested phone numbers in the courtroom.
Mr. Stafford clearly doesn't believe in half-measures. Having made his point once again, you would think he would be finished. You would be wrong.
Still, Stafford had one final act planned. After collecting the hundreds of rolls of pennies he needed, he hired 11 people to help him break open the paper rolls with hammers Tuesday night. It took four hours and he paid each person $10 per hour, costing him $440.

Stafford also purchased five wheelbarrows to deliver the pennies. The wheelbarrows cost $400, and he wasn't going to dump the coins on the DMV's floor, so he left the wheelbarrows there, bringing his expenses to $840.

He also paid $165 for the three lawsuits, which means he spent $1,005 to get 10 phone numbers and the satisfaction of delivering 300,000 pennies. Not to mention the nearly $3,000 he paid the DMV for the cars.
As stated at the beginning of this article, this Stafford fellow is a man on a mission.
On Wednesday, Stafford brought five of the employees from his vinyl business, Craft Vinyl, to help him unload the coins. During the process, one employee wondered how it was going inside the DMV.

"Are they mad?" she asked.

"Oh no," Stafford said. "They're really nice in there."
Well, at least our story has a happy ending. Stafford made his point. His taxes got paid. And the DMV employees got complimented for being nice people.
The DMV folks also probably got some overtime pay since they didn't finish hand-counting the pennies until about 1:00 am.  Then there were those five new wheelbarrows he left with them to divide up.
Sounds like a great day for government and especially the DMV.
Source: Bristol Herald Courier