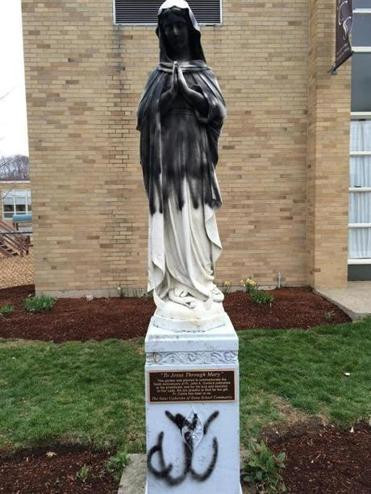 Last week, news broke in the Boston Globe that a local parish was vandalized on Good Friday, but the newspaper's article (below) told only half the story:
A statue of the Virgin Mary at St. Catherine of Siena Parish in Norwood was vandalized with black spray paint on Good Friday, the most sacred day of the year for Catholics.

The body of the statue, which depicts the Blessed Mother with praying hands, was covered in paint. Graffiti was scrawled beneath a plaque that reads "To Jesus Through Mary," on the base of the statue, which stands in a garden outside the parish school.

The Rev. Stephen Donohoe, the pastor of St. Catherine, called the incident "a sad act of vandalism," but asked parishioners to pray for whoever defaced the beloved figure.

"Please pray for the person or persons who did this." Donohoe said in the statement, released Saturday by the Archdiocese of Boston. "We are reminded never to take the gift and treasure of our faith for granted but to live it and proclaim it every day."
The watchful eyes over at Jihad Watch, however, are reporting what the Boston Globe refused to note: that the attack on christianity was clearly done by someone in the Muslim faith.
"It's disrespectful to every religion." No, it isn't. It is most likely a member or members of one faith being disrespectful to another. But because the disrespected faith is so very, very solicitous of the likely faith of the perpetrators, no one involved is likely to speak about this honestly — if they ever even realize that the painters wrote "Allah" (الله) at the base of the statue.
Yet another sign of PC run amok. It seems news outlets can't even condemn Muslim criminals without fears that they're being Islamophobic. Instead, they'd rather just ignore the fact altogether.
Source: Boston Globe, Jihad Watch
More vandalism in Burlington, Mass.