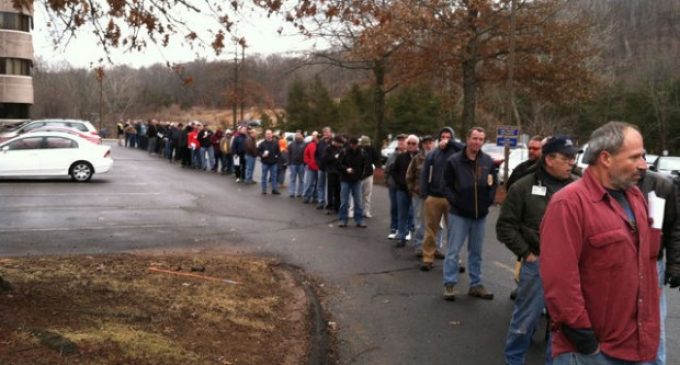 This viral photo is the stuff liberal citizen-control fanatics' dreams are made of and should also be a wake-up call to any Americans who value liberty.
Under a wide-ranging gun control law passed after the Sandy Hook Elementary School shooting in Newtown, they have until Tuesday to submit the paperwork with the Department of Emergency Services and Public Protection.

"Holy cr*p. Looks like Weimar Germany," Twitter user @votermom said of the photo.

"Another disgusting picture from Connecticut . . .men waiting in line to register guns with the government," user @chipwoods commented.

"First, they came for the guns," @PaulRReyes added.

"Life is too short to live in a state that does this to its residents," Twitter user @lancemfisher declared.
As previously reported, the new law designed to control citizens is unlikely to have any effect on violent crime, but it will create a new class of felon: Those who fail to comply with the law and line up to be registered by the deadline today will be guilty of a felony. The law's supporters suggest it is gun-control legislation, but its real goal and effect is to register gun owners willing to turn themselves in and put themselves at the mercy of the state.
Source: TheBlaze