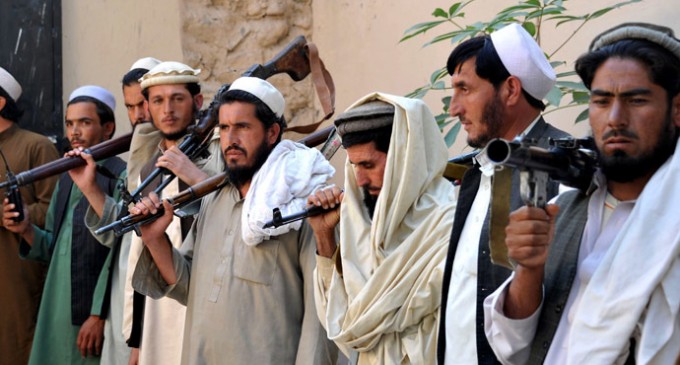 Your tax dollars have funded companies that back terrorists that have attacked American troops in Afghanistan.
$150 million has been paid to 43 companies that support the Taliban, Al-Qaeda, and the Haqqani network.
The same type of treasonous actions are occuring in Syria (SEE: http://www.truthandaction.org/us-backed-rebels-syria-says-will-attack-us-great-britain/)
Your hard-earned money has funded terrorists that attack us via our trusted politicians…in 2 different fronts!
American taxpayers have unwittingly paid more than $150 million to companies throughout the Middle East that are known to have helped finance terrorist attacks on US soldiers stationed in Afghanistan, according to a new internal US government report.

At least 43 companies based in Afghanistan were found to have ties to terrorist networks according to findings by the Special Inspector General for Afghanistan Reconstruction (SIGAR), the leading US oversight authority on reconstruction in Afghanistan. SIGAR's report seems to suggest that the very groups being targeted by the US through counter-insurgency operations sometimes become the beneficiaries of the federal government through contracted work.

"It's like the United states government is subsidizing the Taliban, Al-Qaeda, the Haqqani network, those groups that are trying to shoot and kill our soldiers," Senator Jeanne Shaheen (D-NH), a member of the Senate's Armed Services and Foreign Relations committees, told ABC News. Sheehan was among a group of senators who wrote a letter to the Army in 2012 "expressing concern about where US dollars were going.

Perhaps the most notable example is a road construction company partly owned by one of the leaders of the anti-American Haqqani network. US lawmakers designated the Haqqani network as a foreign terrorist organization in September 2012 after the Islamist insurgent group was blamed for an attack on the US Embassy in Kabul that claimed 16 lives in 2011.

A classified military investigation reportedly found evidence that the company worked "in facilitation and operation of the Haqqani network" and, as a result, "approximately $1-2 million per month flow[s] to Haqqani network to finance its activities."