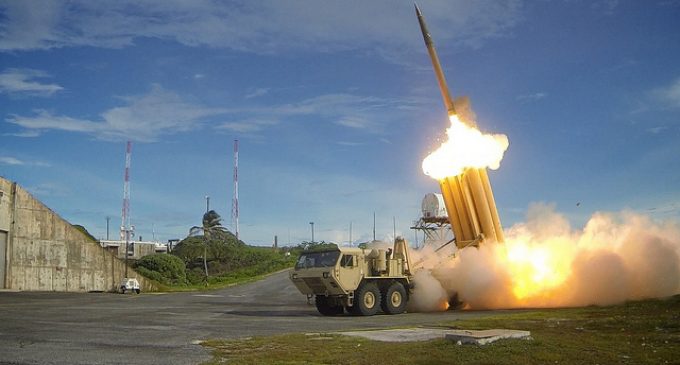 When Chinese president Xi Jinping visited the White House on April 6th, Leftist media predicted the worst.  According to some of them, Donald Trump was going to be insulting and blustery and would start a huge spitting contest with China.  The reality following the visit was one of joviality and contentedness with the meeting, to be sure not well received by the Liberal press.
Is it possible that Trump and Jinping came to a gentlemen's agreement that the U.S. could become more hardlined against North Korea so long as China could "express their outrage" in public?  Could it be that they agreed that this would in reality not affect the eventual outcome of reining in Pyongyang and Kim Jong-un?
It does appear that way.  The current leader of South Korea, acting president Hwang Kyo-ahn (who replaced impeached president Park Geun-hye, the nation's first female president before she was convicted of corruption) has given the okay to the U.S. to place a Terminal High Altitude Area Defense (THAAD) system within its borders in an effort to show that America will be on hand to protect its allies from threatened nuclear attacks.
A handful of protesters were available near the site of the battery to express their anger at their government for allowing this defense system to be placed, however the U.S. and Japan have not backed down from their commitment to South Korea that they would not be bullied by these threats.
In the meantime, the Chinese are expressing their own distaste for this move and have vowed to protect their interests as well.  The statement was loose and not very emphatic and could indicate that China is now taking a more wait-and-see attitude with its loud and erratic neighbor.  Perhaps this is the excuse they've been looking for all along to be able to shut down Kim Jong-un's boisterous and dangerous attitude toward the Western world.
A plurality of military leaders in the United States agree, however, that North Korea is not only dangerous, but is also serious about its threats.  Admiral Harry Harris, in his remarks before Congress today, assured lawmakers that everything we fear about North Korea should be treated with the utmost seriousness.
Reiterating his calls for the Pacific defense to strengthen its missile capability in Hawaii and other strategic locations, Harris explained that North Korea is on track to have nuclear missile capability as early as 2020.
During his meeting with Congress, Harris had a bit of a dust-up with one of the lawmakers which prompted a quick and decisive statement on the Admiral's part.
View more on his comments on the NEXT PAGE.