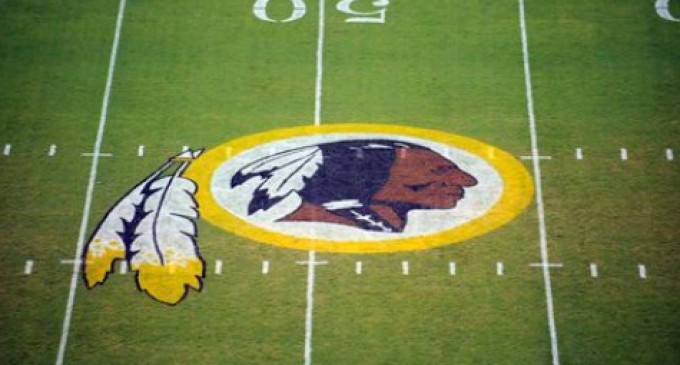 In a landmark ruling, the US Patent Office has canceled six Washington Redskins trademarks after determining that the word "Redskin" is "disparaging" to Native Americans.
The team can continue to use the name, even if it loses the appeal to retain the trademark. However, they will likely suffer financial losses as they can't prevent others from using their logos to sell merchandise. They do have the option to try to stop unauthorized merchants from doing so through common law and state statues.
Five American Indians including Navajo activist Amanda Blackhorse,  petitioned the patent office to consider the name disparaging.
Do these 5 represent  "a substantial composite" of American Indians?
One attorney, Pokotilow, not involved in the case, believes they don't:
"I don't think anyone thinks 'Redskins' means to the average person anything other than the Washington football team," he says. "I don't think anyone really thinks anyone is being disparaged by it except this small group of Native Americans. My belief is you just have to weigh all the values here. The team has spent millions promoting the name over more than 75 years. Is it fair to ask them to give up the goodwill value of a capital asset that is worth $100 million at the very minimum, probably closer to whatever the value of the team is? If it were something that was truly disparaging, why wouldn't all Native Americans feel that way? I don't believe it is." Polotilow stated.
The team name of the Washington NFL club is a badge of honor meant to exalt American Indians, according to the team. The name is a damnable racial slur that disparages American Indians, according to 50 U.S. Senators who wrote scathing letters to NFL Commissioner Roger Goodell last week.

Letters amount to moral suasion. The next big thing in a long-running controversy over the team name might well be more than that. Both sides await a ruling from the Trademark Trial and Appeal Board of the U.S. Patent and Trademark Office in Blackhorse v. Pro-Football Inc. The Washington team name enjoys the benefits of federal trademark protection; petitioners in this case seek to have the team's trademark registrations canceled on disparagement grounds.

If the team were applying for federal trademark protection for its "Redskins" name today, it would almost certainly be denied: At least 12 times since 1992 the USPTO has refused to register such marks on disparagement grounds, including seven applications from the Washington team (for terms such as "Redskins Fanatics" and "Redskins Rooters") and one from NFL Properties (for "Boston Redskins").

But those were for new trademark registrations. The question in this case is whether the term was disparaging to "a substantial composite" of American Indians when the Washington team's six federal trademark registrations were granted between 1967 and 1990. A time machine might come in handy for determining that.

The petitioners, five American Indians including Navajo activist Amanda Blackhorse, argue that the name was, and is, disparaging. The football team, legally known as Pro-Football Inc., argues that it was not and is not. The arguments haven't changed much in the more than two decades since an original version of this case, Harjo v. Pro-Football Inc., was filed by seven American Indians including lead petitioner Suzan Shown Harjo. The trademark board's decision in Harjo took about a year; the board heard Blackhorse more than 14 months ago.

The ruling, whenever it comes, may not be the final word — appeals could lengthen by years a case with roots dating to 1992. But because the team name of the Washington club has emerged as a hot-button issue in the past 18 months — castigated at a Smithsonian symposium, criticized by President Obama, lampooned in late-night monologues, denigrated by half of the U.S. Senate — whatever the board decides will be headline news.

National media coverage was muted when the board canceled the trademark registrations in 1999. (That ruling in Harjo was overturned on appeal in 2003 largely on technical grounds.) This time, news of canceled marks would very likely snowball on social media.

The practical effect of cancellations would be small on one level because the team could continue to use the marks as it pleases, even if it loses on appeal. On another level the effect would be large because federally registered trademarks keep others from selling items with the team's logos, although even then the team could try to keep unauthorized merchandisers from using the marks through common law and state statues.

Perhaps most significantly, if the trademark registrations are canceled, is that it would serve as the latest clarion call in a rising tide of pressure on the team and the league.

USA TODAY Sports is looking at the case now to try to simplify the complexities of a long-running legal dispute that is often misunderstood. Trademark law experts Christine Haight Farley, who teaches at American University's Washington College of Law, and Manny D. Pokotilow, an attorney with the Philadelphia firm of Caesar, Rivise, Bernstein, Cohen & Pokotilow, offered their insights. Farley favors the petitioners' position and Pokotilow favors the team's.

What is the Lanham Act?

The year 1946 was not a good one for Washington's NFL club. The team finished 5-5-1 — and Congress passed the Lanham Act. Its Section 2(a) bars registration of trademarks that disparage a group or bring it into contempt or disrepute. "This is a good law," Farley says. "There are certain words that should not have federal trademark protection."
Photo:
AP