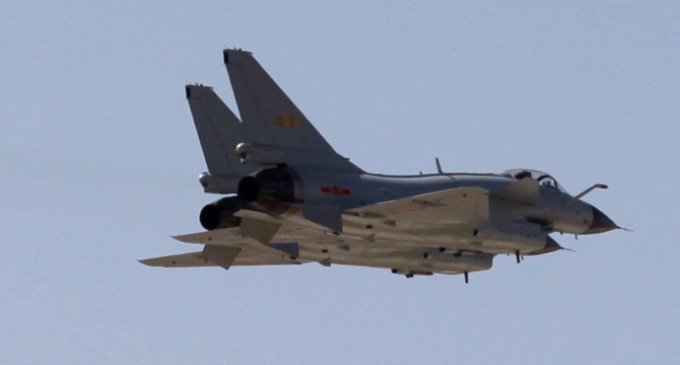 China recently declared 8 uninhabited islands part of their new aerial zone, much to the chagrin of the Japan, who has been disputing China's the claim on the islands.
The US is also outraged at the claim and recently flew 2 US surveillance aircraft, along with 10 Japanese F-15 jets, into the zone as an act of defiance.
China responded by 'tailing' Japanese and US jets with their own.
Is is a correct response by the US to fly our jets into Chinese declared airspace, risking an 'incident', simply to show defiance at the Chinese declaration of these 8 uninhabited islands?
Chinese fighter jets were scrambled and followed US and Japanese planes that had entered the newly-proclaimed Chinese air defense zone in the disputed area of the East China Sea, Xinhua reports.

Two US surveillance aircraft and 10 Japanese F-15 jets were 'tailed' by Chinese pilots on Friday.

China ordered an urgent dispatch of its Su-30 and J-10 fighter jets to an area in the East China Sea after the foreign aircraft "invaded" the air defense zone, they said.

The reported intrusions came in defiance of the East China Sea Air Defense Identification Zone (ADIZ), established by Beijing last week.

China's move has triggered outrage from several states in the region and critical rhetoric from the US, as the vast zone covers disputed areas, including the islets claimed by both China and Japan.

Chinese Foreign Ministry spokesman Qin Gang told a daily press briefing that civilian flights have not been impacted, Xinhua news agency reported on Thursday. China has said that all planes flying through the zone should submit flight plans and identify themselves, or their operators would end up facing "defensive emergency measures."

"We expect all sides, including aviation companies, to actively coordinate with us and jointly safeguard flight safety," Qin said.

Earlier Thursday, Japan and South Korea, key US allies in East Asia, sent their own military aircraft into the zone's airspace in an act of defiance.