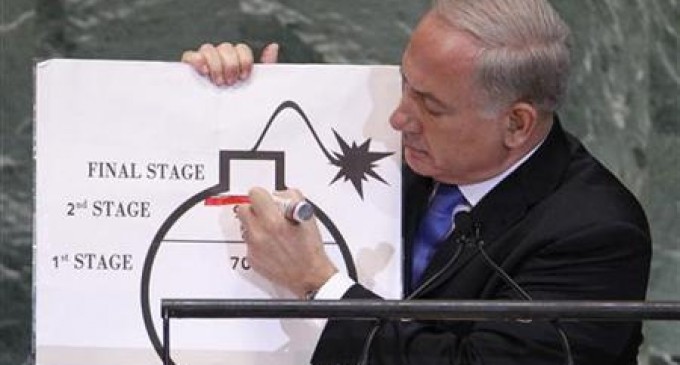 The US and Israel supply Iran with military support and parts.
Iran, our common 'enemy' for the last few decades, is in turn arming Syria, who's also receiving arms from Russia.
Sound crazy? The games our government plays behind the scenes is as never-ending as they are nefarious.
So what are they up to here?
One thing is for sure, military conflict inevitably follows economic hardships and collapse. Our country has gone from the world's largest creditor nation to the world's largest debtor nation in just 20 years.
Think our government wants to be the fall guy for that? Instead, expect a grand world conflict to blame the world economic collapse on.
As things on the world stage get more convoluted, don't expect peace to follow.
Before the Ukraine, there was Syria. Before Syria, there was Iran. For over 30 years, Iran was the perpetual strawman of every attempt to escalate hostilities in the middle east. One only needs to recall that the original "red line" was not Obama's but that of Israel's PM Netanyahu referring to Iran's nuclear program (which most likely was under the control of Stuxnet, and thus the NSA, more than it was Iran's to begin with).

What is surprising in recent months, is how quickly in the aftermath of the Syrian failed escalation script from last summer, Iran quickly dropped off the axis of America's worst enemies, and from the biggest bogeyman, has rapidly become a nation with which the US is eager to resume diplomatic and trade relations. Sure, Israel pretended to be angry about Iran's ascent in the ranks of US foreign allies-to-be, and issued a few angry press releases, but that's all it was – posturing, fit only for the front page of tabloids. It is what was happening behind the scenes that is noteworthy.

And what is happening behind the scenes is the same thing that happens every time the US (or Israel, or any other western nations) finds a surprising new ally: said ally proceeds to purchase military equipment from the US (or other western nations), using loans from the US (or other western nation banks).

Enter bizarre twist #1 – US companies selling military parts to none other than the formerly country non grata (at least until mid-2013): Iran. Reuters reports:

U.S. aerospace companies are seeking permission to sell airliner parts to Iran for the first time in three decades, in a key test of the temporary relief on sanctions given under talks to curtail Iran's nuclear activities.

At least two leading manufacturers, Boeing and engine maker General Electric, have applied for export licenses in a six-month window agreed by Iran and six world powers in November, industry officials and other sources familiar with the matter said.

If approved, the sales would be the first acknowledged dealings between U.S. aerospace companies and Iran since the 1979 U.S. hostage crisis led to sanctions that were later broadened during the dispute over Iran's nuclear activities.

A source familiar with the matter said that Boeing, the world's biggest manufacturer of passenger jets, had also filed a request for permission to export parts to Iran.

Boeing declined to comment, referring questions to the U.S. State Department, which in turn referred queries to the U.S. Treasury. A spokeswoman for the Treasury Department, which enforces international sanctions, declined to comment on specific license requests or applications.

Enter bizarre twist # 2 – "GE is doing it for the kids."

A GE spokesman said his company had been asking since 2004 for permission to provide parts and maintenance for engines for safety reasons, without profiting from the scheme. GE, the world's largest maker of jet engines by sales, refiled its request after the sanctions relief came into force, he added.

"We don't want to make a penny on it. It's entirely for flight safety," Rick Kennedy said, adding that GE would donate any proceeds to charity.

But of course, because when one thinks suing the US to get tax refunds corporate generosity (if not bailouts), one thinks GE.

Enter bizarre twist # 3 – it is not only the US that is seeking to promptly capitalize on this "temporary" elimination of Iran sanctions. It is Iran's perpetual nemesis, Israel, that is not only planning to supply weapons to Iran, but is already doing so. However, unlike the US which at least has clumsily stumbled upon a detente whose only purpose is logically to get Iran to buy Made in America weapons, with Israel the hypocrisy takes on a whole new meaning. Quote the Telegraph:

Benjamin Netanyahu, the Israeli prime minister, called for increased pressure on Iran to force it to abandon a programme that Israel regards as a front for building an atomic bomb and a threat to its existence.

Visiting the Golan Heights on Tuesday, he accused Iran of "arming those who are carrying out the slaughter" in neighbouring Syria.  "I would like to tell the world, today, as the talks between the major powers and Iran are being resumed, that Iran has changed neither its aggressive policy nor its brutal character. Iran is continuing to support the Assad regime, which is slaughtering its own people," Mr Netanyahu said.

And this is where it gets embarrassing for Bibi: it was Israel that was arming Iran.

[A] court in Athens has told The Telegraph that parts appearing on an American list of forbidden military-grade materials had been shipped from Israel on two occasions, apparently destined for Iran.

The seized items comprised spare parts for military aircraft: a constant speed drive designed for the F-4 Phantom jet, and a voltage output sensor used in the F-14 Tomcat. The parts were confiscated by Greece's financial crimes squad and were being sent to the US for investigation, court officials said.

…

Israeli arms dealers twice tried to send spare parts for fighter planes to Iran, The Telegraph has established, flouting an international arms embargo and openly contradicting the bitter enmity between the Jewish state and the Islamic regime.

The illegal shipments are now being investigated by the US Homeland Security Department after they were intercepted by authorities in Greece.

…

The shipments – one in Dec 2012 and the other last April – were sent by courier from the Israeli town of Binyamina-Givat Ada, near Haifa, via a company in Greece, the newspaper reported. The firm was later established to be a ghost company. Its contact number was said to belong to a British national in the Greek city of Thessaloniki, who could not be traced.

Was Mossad involved? But of course.

A blogger, Richard Silverstein pointed the finger at two possible culprits who he said were well-known arms dealers living in Binyamina-Givat Ada. The pair had come to the attention of Israeli and US authorities on suspicion of violating the arms embargo on Iran in the past, Silverstein wrote, but had never been charged or prosecuted. "There can be no doubt that they are colluding with Israeli intelligence," he added.

For those who are not convinced, "The defence and foreign ministries in Israel declined to comment on the seizures, which were first revealed by Kathimerini, a Greek newspaper. "

Finally, tying it all together, is another report from Reuters. in which we learn that "as Syria's war nears the start of its fourth year, Iran has stepped up support on the ground for President Bashar al-Assad, providing elite teams to gather intelligence and train troops, sources with knowledge of military movements say."

This further backing from Tehran, along with deliveries of munitions and equipment from Moscow, is helping to keep Assad in power at a time when neither his own forces nor opposition fighters have a decisive edge on the battlefield.