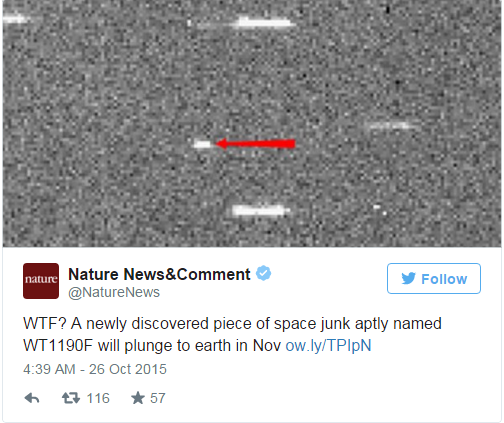 WT1190F was spotted on a trajectory that will bring it right to Earth. It's hollow nature and cylindrical shape have led to the conclusion that it's man-made and not an asteroid or meteorite from an alien species. Right now, the best guesses involve it being a piece of an old rocket or debris from one of the Apollo missions.
"To fit the solar radiation pressure effects on its orbit you need to assume a high area-to-mass ratio – implying the thing is hollow, like an empty rocket stage would be," Mcdowell said. "So it has the right size and properties, and it is in an orbit which would be surprising for a natural object (whizzing around theEarth-Moon system) but where we know there are a bunch of pieces of space junk. "

That it was discovered so late in the game is unusual but not unheard of. The United States is currently working on its next version of the "space fence," which will be able to detect most large pieces of space debris in near-Earth orbit. But unless WT1190F were at its perigee nearer Earth, the object might still have gone undetected due to its strange orbit.

McDowell has a few speculations on what it could be, based on things that might've been in the vicinity of the moon. He says there are 86 unaccounted for artificial objects in moon crossing orbits, most of them from lunar probes. There's still a chance it could be China's Chang'e-2 lunar mission or another lunar probe, or it could be the adapter panels from the Saturn V rockets that launched the Apollo missions. The adapter panels deployed into four pieces when the lunar module was ready to deploy, and they are presently mostly unaccounted for.
Whatever debris is left over after descending into the atmosphere is expected to make sea-fall forty miles off the coast of Sri Lanka. From there, a recovery team will be able to determine exactly what it is . . . assuming anything is left. There's nothing like a good space mystery to stir the imagination.
Source: popularmechanics.com
From then on they calculated the orbit of the object, which has been circling the Earth at a longer orbit than the Moon, and deduced that the piece of cosmic refuse was likely placed there by man.

"To fit the solar radiation pressure effects on its orbit you need to assume a high area-to-mass ratio – implying the thing is hollow, like an empty rocket stage would be," McDowell told Popular Mechanics.

"So it has the right size and properties, and it is in an orbit which would be surprising for a natural object (whizzing around the Earth-Moon system) but where we know there are a bunch of pieces of space junk."

Astrophysicists believe that the object could even be a memento of the Apollo missions that took US astronauts to the moon. But scientists may never discover for sure: WT1190F's re-entry into the atmosphere would likely burn up most of the debris, before dumping it in an extremely remote spot.

"It's coming in fast and will get very hot – it's possible a few dense parts of say a rocket engine will survive to impact the ocean," said McDowell of its potential disintegration, before warning that he "would not necessarily want to be going fishing directly underneath it."