This week, at the Premios Lo Nuestro — or "Our Awards" in Spanish — Univision anchor Jorge Ramos claimed that the United States belongs to the Hispanic people.
Univision senior anchor Jorge Ramos declared on Friday that the United States belongs to Latino migrants, emphatically stating to a Spanish-speaking audience that "it is our country, not theirs."

Ramos took an unusual tack, pivoting from talk of diversity and togetherness into boasts of conquest. Mass immigration, particularly illegal immigration, was a fait accompli. There is nothing the U.S. can do about it, and they must accept that America is "not their" country and that illegal aliens, particularly Latinos, "are not going to leave," he said.

"I am an immigrant, just like many of you," Ramos said in Spanish, as translated by the Media Research Center. "I am a proud Latino immigrant here in the United States. My name is Jorge Ramos, and I work at Univision and at the Fusion network."

"And you know exactly what is going on here in the United States. There are many people who do not want us to be here, and who want to create a wall in order to separate us," he said.

"But you know what? This is also our country. Let me repeat this: Our country, not theirs. It is our country. And we are not going to leave. We are nearly 60 million Latinos in the United States," he continued. "And thanks to us, the United States eats, grows and, as we've seen today, sings and dances."
Considering Ramos' influence in the Hispanic community, his rhetoric is frightening. Ramos is trying to get his entire audience to believe that Trump intends to rid the nation of all latinos. And he wants to undermine the authority of the president in the process.
Watch Ramos' statements in the video below:
One commentator from the YouTube video above: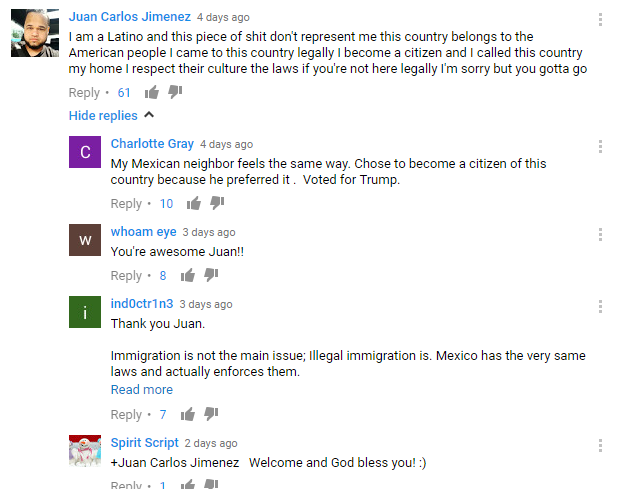 Source: Breitbart