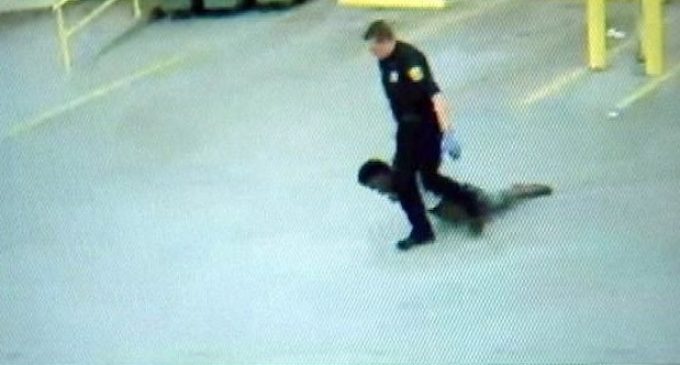 Watch the raw footage below: A Florida police department is being praised after it discovered one of its officers had dragged an uncooperative woman arrested on drug charges across a parking lot. They quickly took steps to reprimand the officer and amend department policy, earning kudos from the ACLU.
The video was taken in October 2013 in the Hillsborough County jail parking lot, showing Sonja Mimminger with hands and feet tied. Officer Scott Van Treese untied her legs in the video and tried to lift her to her feet, her arms still handcuffed behind her back. When she couldn't stand, he dragged her by her hands across the parking lot.
The 36-year-old woman told WTVT-TV the officer dragged her "like a little rag muffin," explaining that she had never been hogtied before and was weak in the legs after her car ride in that state.

"It made me feel like I didn't have much to live for. If I can't get respect from law enforcement officers, who else can I get respect from?" she told the news station. "It was that serious to me. It was another heartache."

Mimminger was arrested on drug charges and sentenced to 90 days in jail, but Van Treese was also punished for his treatment of her as well. The police department told WTVT that it issued the officer a written reprimand, which is a step below suspension, and has even changed its policy as a result of the video.

WTVT reporter Doug Smith in an interview with Major Diane Hobley-Burney said the footage "looks bad," a statement with which the major agreed.

The American Civil Liberties Union in Florida praised the police department's actions for acknowledging the wrong and finding a way to improve.
Sources: TheBlaze, FOX 13 News
Photo: WTVT-TV