The bulk of the stabbings occurred outside the Roast restaurant in Borough Market. The surprise attack apparently terrified unarmed local police who fled the scene.
Witnesses reported that the terrorists were shouting, "This is for Allah!" The incident occurred during the Muslim holiday of Ramadan, a time when terrorists seem to ramp up their efforts.
Lisa O'Carroll, a reporter for The Guardian, got on scene and learned how the chaos unfolded.
Witnesses said they saw two men stabbing people outside the well-known Roast restaurant in Borough market. A chef from the nearby Fish restaurant said: "I saw two guys with big knives downstairs outside Roast. They were stabbing people. The police were running away, they were community police. They were normal officers, they were running away."
The first policeman on the scene was armed only with a baton and was stabbed in the neck and face. Three other police officers were injured in the incident before the attackers were shot.
Left defenseless by fleeing police, local bar patrons took matters in their own hands to halt the stabbings. They began yelling at the attackers to stop, and then threw bar stools and chairs at them to try to end the attacks.
A baker from the Bread Ahead bakery hit one of the attackers with a crate and led 20 people to safety inside the bakery.
Another staff member from Fish said: "I saw two people in Bread Ahead bakery, they had blood on them, they were civilians. I never expected to see this happen here."
Armed Metropolitan Police and City of London Police then came on the scene eight minutes after receiving the emergency call. They shot and killed the three attackers outside the Wheatsheaf pub.
The attack shows the folly of the decision years ago to disarm local police and prohibit them from carrying firearms. Given the numerous terrorist incidents that have occurred in London and throughout Great Britain, the British government needs to take a serious look at its overzealous gun control policies in the face of a growing jihadist movement.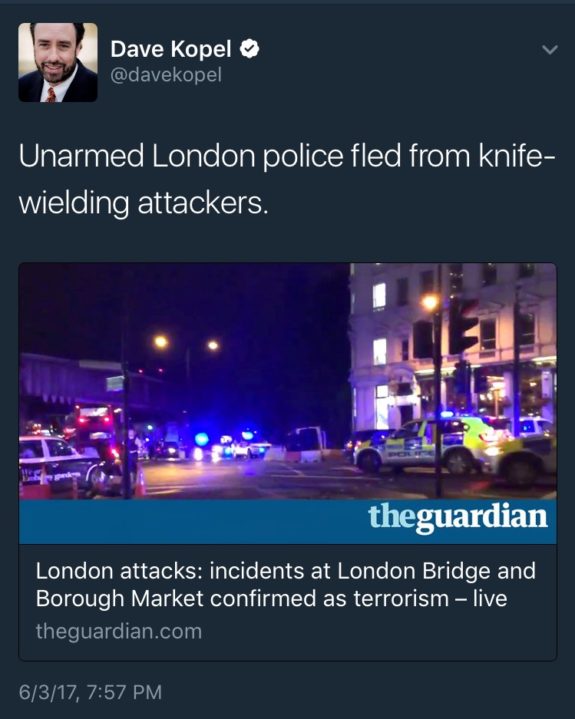 Report: Citizens had to throw chairs at the jihadists — because the police ran away. https://t.co/OgbbGtyOQS

— toddstarnes (@toddstarnes) June 4, 2017
Police ran away from the attackers, leaving citizens to defend themselves. https://t.co/b5Y0ghAxaG

— Scott Greer (@ScottMGreer) June 4, 2017
Source: The Gateway Pundit