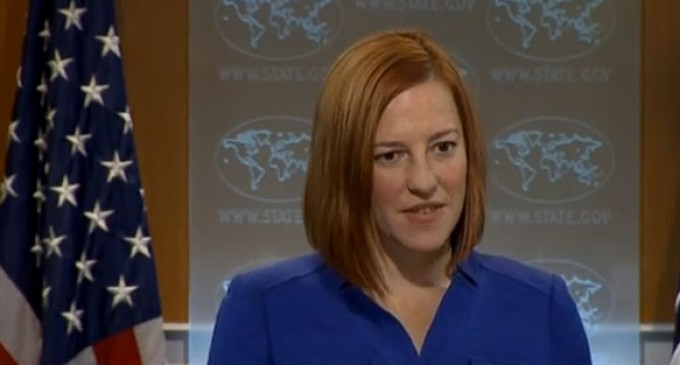 The US State Department had egg on its face once again after it announced it's third annual "Free The Press" campaign, supposedly to highlight censorship and oppression of journalists "around the world", but not inside the US, apparently.
Watch below as spokesperson Jen Psaki is grilled by reporter Matthew Lee for her explanation that US crackdowns and routine First Amendment violations in cases of whistleblowing belong in a "separate category".
What she meant, but didn't say, of course is this is another case of do-as-we-say, not-as-we-do politics.
"We highlight, as we often do, where we see issues with media freedom around the world," Psaki told Matthew Lee of the Associated Press, who asked if she believes there are some problems with press freedom in the US that should be discussed as well.
"Otherwise harassed?" Lee asked. "Does that include those who may have been targeted, harassed, imprisoned, or otherwise, whatever, by the United States Government?"
Getting no clear answer, he continues questioning, asking whether the US administration regards"attempting to prosecute American journalists as an infringement of press freedom?"
Psaki was quick to reply that she was "not sure" what the AP reporter was referring to exactly. Lee had to specify that among many cases "out there", he was particularly referring to the "James Risen case."
On Friday, the US Justice Department urged the US supreme court to reject New York Times correspondent and Pulitzer-Prize winner James Risen's petition on reporter's privilege, which could force him to go to jail for not disclosing his source. The request comes after Obama administration lawyers asked the US Supreme Court to not hear testimony.
In the State Department, Lee continued his line of questioning, asking Psaki if the US State Department regards Risen's case "as an infringement on press freedom or not."
"And I would suspect that you do not, but I want to make sure that's the case," he said.
"As you know, and I'll of course refer to the Department of Justice, but the leaking of classified information is in a separate category. What we're talking about here, as you all know, and unfortunately we have to talk about on a regular basis here, is the targeting of journalists," Psaki answered, adding that that she is referring to "the arrests, the imprisonment, for simply exercising their ability to tell a story."
Lee continued his grilling, clarifying that "reporters in question here have not leaked the information" but simply "published it."
"So is it correct, then, that you don't believe – you don't regard that as an infringement of press freedom?"he asked.
"We don't," Psaki answered, drawing the line under the "Free the Press" campaign announcement.
New York bases Committee to Protect Journalist (CPJ), in their 2013 report on the freedom of speech in US noted that the Obama administration continuously violates the freedom to share information.
Source: RT