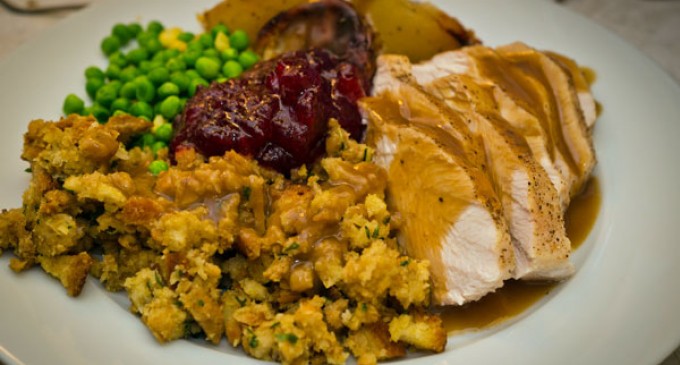 Whatever your holiday traditions may be, here are two great tips from Ben Crystal to help make your Thanksgiving happy and memorable:
Turn away no family. Thanksgiving is well known for its status as the most-traveled day of the year. Children, many toting grandchildren, make annual pilgrimages across the fruited plain to spend the holiday with family. Mothers and fathers well into their twilight years turn back into their former parental selves at the sound of their progeny's feet in the halls of the family home. If they're anything like my parents, the presence of grandchildren delivers more joy than Publisher's Clearing House could imagine.
Once everyone is assembled, don't forget this other important point:
Bring no politics to the table. That means not only should the college kid with the nose ring leave to the dormitories the tales of smallpox-infused blankets, trails of tears and genocide, but the fathers should resist the urge to point out to the ungrateful little twerps that their sociology professor is an overpaid, under-bathed ninny who "teaches" because he couldn't keep a private sector job for more than 20 minutes. Pops should also take the night off from wanting to rip the jewelry out of Junior's nostril and holding him down and shaving that rat's nest off the ungrateful little jerk's head. For those of you so twisted by liberalism that you refuse to acknowledge the holiday, or call it something like "Rape of Native Cultures Day," it is perfectly permissible to give the talking points a rest — at least until after the younger kids get the table cleared. If you struggle to endure the national holiday commemorating the white man's desecration of a previously verdant paradise and its innocent inhabitants, consider how much everyone else will enjoy it when you spike a drumstick in Grandma's gravy boat while calling the assembled "Euro-fascist murderers" (or whatever).
Family gatherings can be stressful or they can be harmonious; it all depends on your approach.
Have a wonderful Thanksgiving!
Source: Personal Liberty Digest
Photo: YVRBCBro on Flickr