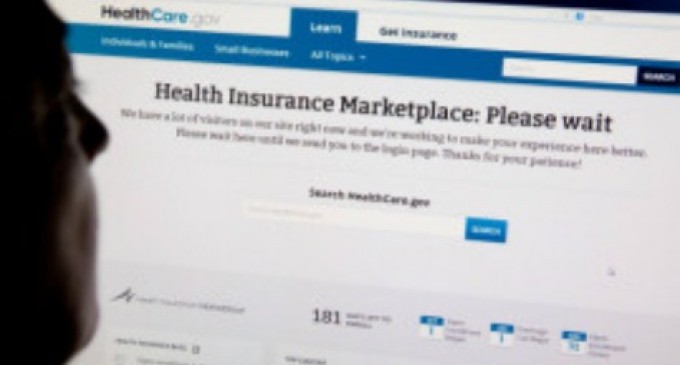 So Obama releases a website that doesn't work to manage his signature legislation, then can't get it fixed with all the resources at his disposal.
I've got no comment.
On Friday, Bloomberg News reported that two days before the Obama administration's self-imposed December 1 deadline for fixing the Healthcare.gov website, the website remains disastrously "hit-and-miss." Bloomberg reports:

From Florida to Alaska, the "navigators" designated to sign people up for insurance under the U.S. health-care overhaul say that while the federal online insurance exchange has improved in many ways since its Oct. 1 debut, outages and errors continue to prevent many from using it to buy their coverage.

Navigators quoted say that the site rates "four out of 10," "kind of hit and miss," and "not able to function at the capacity yet that capture the complications of people's lives."

The big problem with the website remains the payment system, which as the administrators of the website acknowledge, has not yet been fully built. Many consumers have logged in, created accounts, and checked out pricing, but nobody has yet been able to buy. Many Americans desperately seeking insurance after watching their insurance expire on the individual exchange have gone directly to the health insurance companies in search of a product. One insurance broker, Raymond Magnuson, told Bloomberg, "This week has become the breaking point. I have several clients this week that have said exactly that: 'I give up. I don't care what the federal subsidy is. Enroll me in a plan. I'll pay the premium.'"

That means forfeiting federal subsidies, given that all subsidies have to be done through the website. This creates the odd situation wherein a person who buys insurance directly from an insurer cannot receive a subsidy, whereas if that same person attempts to buy insurance through the exchange and the money goes directly to the insurer, the subsidies become available. Unfortunately, the websites are still unable to allow purchase of insurance.

That isn't the only problem. Some data provided is wrong, meaning that the estimates are incorrect. The Legal Aid Society of Palm Beach told Bloomberg it had attempted to help hundreds of people, but only succeeded in signing up "10 or 15 people." None of those people have even received insurance confirmation.