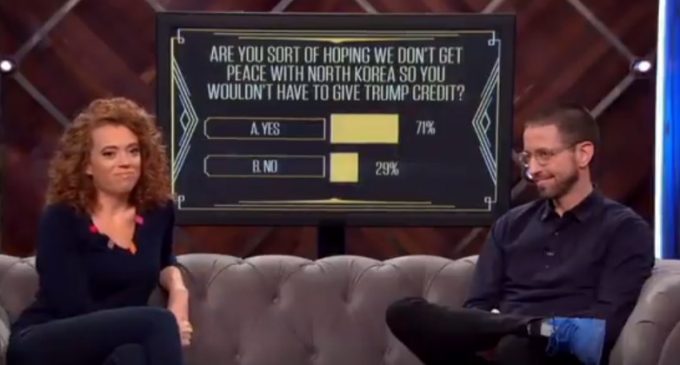 Trump Derangement Syndrome is turning into outright mass hysteria now that President Trump has had great success in bringing peace with North Korea. Liberal insanity has never been so demonstrable as it is with a recent snap survey taken on Michelle Wolf's Netflix show. 71% of the comedian's progressive audience would rather peace with North Korea fail, which likely means nuclear war, than see President Trump take credit for it.
"Are you sort of hoping we don't get peace with North Korea so you wouldn't have to give Trump credit?" the audience was asked.
Only 29% of those polled said they wanted peace with North Korea.
President Trump has been nominated for the Nobel Peace Prize by a couple of Norwegian lawmakers following the summit in Singapore with North Korean leader Kim Jong-un. If that happens you might want to always wear a raincoat when you are out and about because we will likely see liberal heads spontaneously combust.
Check out the video of this madness on the next page: