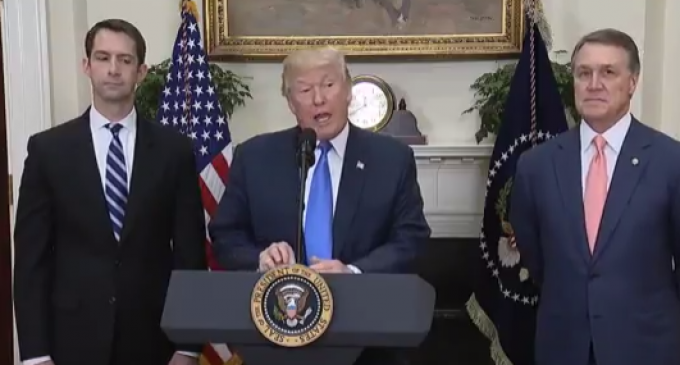 In keeping with a major campaign promise, President Donald Trump joined with two Republican senators in unveiling a merit-based immigration reform act that will replace much of the current system that disadvantages American workers.
Senators Tom Cotton of Arkansas and David Perdue of Georgia have drafted the "Reforming American Immigration for a Strong Economy Act (RAISE Act) to address inequalities in the current immigration system.
As a candidate, President Trump made immigration reform a major thrust of his Make America Great Again movement. He focused on border security, deportation of criminal illegal aliens and scrapping cheap-labor immigration policies hallmarks of his presidential bid.
In a ceremony late this morning in the Roosevelt Room of the White House, the president said the RAISE act will "reduce poverty, increase wages and save taxpayers billions and billions of dollars."
On the next page, learn more details about the RAISE act, what it's designed to achieve and the anticipated reaction from Democrats and the business community.