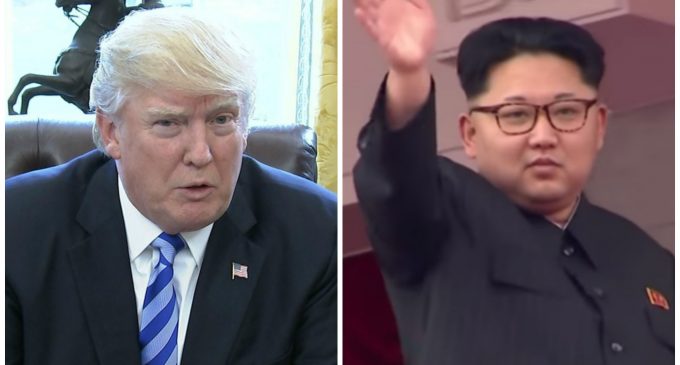 With tensions rising on the Korean peninsula as North Korea keeps launching test missiles and the United States brings a military show of force into the Sea of Japan, President Donald Trump has put a new wrinkle on the developing crisis and its diplomatic standoff.
The president said that "under the right circumstances," he would be willing to meet with North Korean dictator Kim Jong-un. Just days before, President Trump raised the specter of a "major, major conflict" with North Korea as a distinct possibility.
Kim Jong-un has embarked on a reckless course of missile launches that prompted growing concerns among the United States and its allies in South Korea and Japan, as well as Kim's neighbors in China and Russia. However, the two most recent launches ended in failure as the missiles blew up after liftoff.
Observers now worry that North Korea may undertake a sixth nuclear device test or try to test-launch an intercontinental ballistic missile.
Having already said he prefers a diplomatic solution to the crisis, the president's expressed willingness to meet with Kim puts the ball in the dictator's court while South Korea keeps improving its defenses. Find out more on the next page about this new chapter in the art of the diplomatic deal.