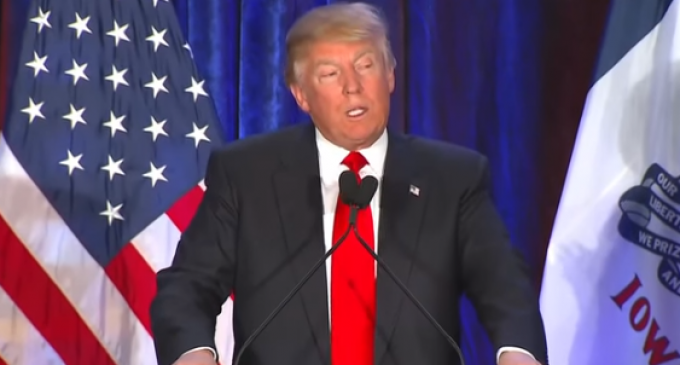 Donald Trump is bringing out the big guns to make sure that his opponents do not deny him the Republican presidential nomination.
Faced by a capable rival in the form of Texas senator Ted Cruz and a potential spoiler in the form of rumored GOP establishment pawn John Kasich, Trump is faced with the prospect of his impressive lead being eaten away by the two.
In fact, if things continue at the rate they're going, it's highly likely that no one will have enough delegates to win the party's nod, freeing delegates to vote for whoever they (or more likely, party insiders) want. It is precisely this messy outcome that the Donald seeks to avoid.
That's why he hired none other than Paul Manafort, a veteran of heavily-contested GOP conventions, to serve as his delegate manager. Having worked for Gerald Ford and Ronald Reagan and at the 1988 and 1996 Republican conventions, Manafort brings a good deal of experience that should serve Trump well.
See more on the next page:
The addition of Manafort to the Trump campaign comes not a moment too soon. With no clear winner predicted in the coming Wisconsin primary, the state and it's delegates are up for grabs, and Trump needs all the help he can get to thwart the establishment's plans to derail his candidacy:
"Anti-Trump forces inside the GOP have hung all their hopes on a contested convention, and Trump's Manafort hire could stave off those efforts. A fierce battle lay ahead over the next several days heading into next Tuesday's Wisconsin GOP primary where different polls show the candidates bunched up competing closely within the margin of error, some with Cruz in front and some with Trump in front. A Trump win in the Badger State would devastate the so-called 'Never Trump' group, whereas a Trump loss to Cruz would embolden his critics.

Then two weeks later it is Trump's home state of New York, where the real estate magnate is expected to dominate. After that, the rest of the eastern seaboard—Rhode Island, Connecticut, Delaware, Pennsylvania, and Maryland—votes before the end of April. In May, Indiana, Nebraska, West Virginia, Oregon, and Washington State hold nominating contests before the final votes are cast before the July convention on June 7 in California, Montana, New Jersey, New Mexico, and South Dakota.

Theoretically, Trump could wrap everything up before or on June 7—but it's a tough road ahead. There are also hundreds of delegates who are entirely uncommitted walking into the convention whom Trump could get to vote for him—something Manafort is undoubtedly already working on achieving.

'The move [hiring Manafort] is freighted with political symbolism: After the 1980 election, Mr. Manafort was among the young-gun Reagan operatives who founded one of Washington's best-known political consulting and lobbying shops,' Haberman and Burns wrote in the Times. 'His principal business partners were Roger J. Stone Jr., a longtime Trump confidant who frequently advocates for the campaign on television, and Charles R. Black Jr. Mr. Kasich unveiled Mr. Black as an adviser earlier this month, in an announcement intended to convey his readiness for a contested convention – effectively making Mr. Black and Mr. Manafort, allies dating back to the 1970s, direct competitors in the 2016 race.'"
Source: Breitbart