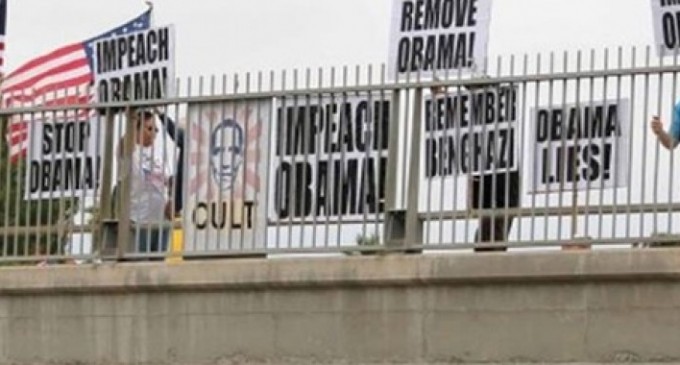 Truckers aim to "wake the sleeping giant, the people of America" when they roll into Washington D.C. on October 11th.
The Truckers' Ride for the Constitution movement has a new ally in their protest against what organizers say is corruption in government and a trashing of the Constitution. The group is teaming up with Overpasses for Obama's Impeachment to line the routes into Washington with flags during the Oct. 11-13 event.
The movement is not without opposition though:

On Sept. 22, Facebook removed the truckers' Facebook page, "Truckers to Shutdown America," which had accumulated 86,000 "likes" within days of its launch.

"Political opponents attacked the Truckers to Shutdown America page within days, and they exploited a little known (to the public) feature on Facebook, YouTube and Twitter called 'community standards' flagging, which allows them to instantaneously shut down an account on these social media platforms," the truckers group explained in a press release.

"[A]n administrator of the page offended someone by saying, 'God bless you, and God bless America."
"Ride for the Constitution will now organize a convoy to Facebook corporate headquarters … to coincide with the ride to Washington, D.C.," the group explained. "We fully intend to arrive on corporate America's doorstep with our original 'community standards' guideline in hand – the U.S. Constitution."
Do you support Truckers Ride for the Constitution?
Source: WND
Photo: Truckers Ride for the Constitution