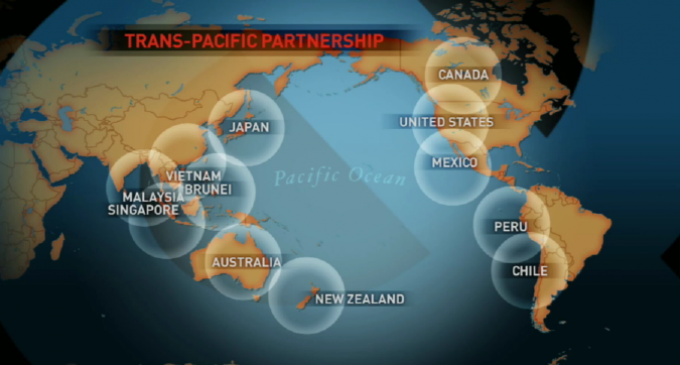 Obama plans on ramming this covert trade agreement through Congress to keep you from knowing what it's really about.
The TPP will not only place all benefit upon top corporations, it will OVERRIDE DOMESTIC LAWS.
That's right, due to the nature of the agreement, America would be surrendering even more sovereignty to corporate interests.
Watch this video and SHARE. It's only with the light of public scrutiny that we can defeat this covert operation.
Many of you know I've been covering TPP (the Trans-Pacific Partnership trade agreement) for a while now — for example, here. Obama and the rest of the neoliberal ("free-trade") Democrats are dying to implement it, and the Republican servants of the same fine CEOs are not far behind.

But the TPP is complicated — at least in appearances — and the public is having a hard time bottom-lining it, in between taking kids to soccer and paying bills in the evening. By comparison, characterizing Keystone is easy — "Want to drink goo from your faucet and watch the earth cook? Support Keystone."

It's not really hard to understand TPP though, once you see the pattern — TPP puts the ruling class (and the corporations they control) in charge of most aspects of our economic and regulatory life. It rewrites the laws of every nation that signs it, all to increase the wealth of our pathological betters. We just need more people saying that.

Now comes Bill Moyers with an excellent, listenable primer on what TPP is and why it spells death to democracy (literally) and breathes even more life into the predator 1% of the 1%.

Many of you know I've been covering TPP (the Trans-Pacific Partnership trade agreement) for a while now — for example, here. Obama and the rest of the neoliberal ("free-trade") Democrats are dying to implement it, and the Republican servants of the same fine CEOs are not far behind.

But the TPP is complicated — at least in appearances — and the public is having a hard time bottom-lining it, in between taking kids to soccer and paying bills in the evening. By comparison, characterizing Keystone is easy — "Want to drink goo from your faucet and watch the earth cook? Support Keystone."

It's not really hard to understand TPP though, once you see the pattern — TPP puts the ruling class (and the corporations they control) in charge of most aspects of our economic and regulatory life. It rewrites the laws of every nation that signs it, all to increase the wealth of our pathological betters. We just need more people saying that.

Now comes Bill Moyers with an excellent, listenable primer on what TPP is and why it spells death to democracy (literally) and breathes even more life into the predator 1% of the 1%.

From the video's introduction at Vimeo:

A US-led trade deal is currently being negotiated that could increase the price of prescription drugs, weaken financial regulations and even allow partner countries to challenge American laws. But few know its substance.

The pact, the Trans-Pacific Partnership (TPP), is deliberately shrouded in secrecy, a trade deal powerful people, including President Obama, don't want you to know about. Over 130 Members of Congress have asked the White House for more transparency about the negotiations and were essentially told to go fly a kite. While most of us are in the dark about the contents of the deal, which Obama aims to seal by year end, corporate lobbyists are in the know about what it contains.

And some vigilant independent watchdogs are tracking the negotiations with sources they trust, including Dean Baker and Yves Smith, who join Moyers & Company this week. Both have written extensively about the TPP and tell Bill the pact actually has very little to do with free trade.

Instead, says Dean Baker, co-director of the Center for Economic and Policy Research, "This really is a deal that's being negotiated by corporations for corporations and any benefit it provides to the bulk of the population of this country will be purely incidental." Yves Smith, an investment banking expert who runs the Naked Capitalism blog adds: "There would be no reason to keep it so secret if it was in the interest of the public."