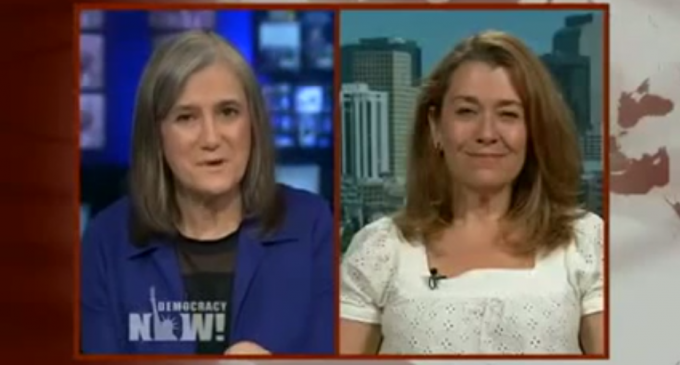 Wikileaks this week published a 19-page secretive international trade agreement that engages 50 countries and 68% of world trade.
The Trade in Service Agreement, or TISA, according to Wikileaks states that the aim is "to further deregulate global financial services markets."
According to the Director of Public Citizens Global Trade Watch, Lori Wallach, this trade deal rolls back all the regulations enacted after the global financial crisis. It would essentially "handcuff us back into the 1990's extreme deregulation model that we all recognize is the cause of the crisis," Wallach states.
Touting the deal earlier this year, the United States Chamber of Commerce said a successful TISA agreement would benefit America's services industry and its 96 million, or 84 percent, of the nation's private sector workers. "As its chief goals, the TISA should expand access to foreign markets for US service industries and ensure they receive national and most-favored nation treatment," the chamber said of the deal in February. "It should also lift foreign governments' sectoral limits on investment in services," "eliminate regulatory inconsistencies that at times loom as trade barriers" and "prohibit restrictions on legitimate cross‐border information flows and bar local infrastructure mandates relating to data storage."

WikiLeaks warns that this largely important trade deal has been hardly discussed in public, however, notwithstanding evidence showing that the policy makers involved want to establish rules that would pertain to services used by billions worldwide.

"The draft Financial Services Annex sets rules which would assist the expansion of financial multi-nationals – mainly headquartered in New York, London, Paris and Frankfurt – into other nations by preventing regulatory barriers," WikiLeaks said in a statement. "The leaked draft also shows that the US is particularly keen on boosting cross-border data flow, which would allow uninhibited exchange of personal and financial data."

Additionally, the current draft also includes language inferring that, upon the finishing of negotiations, the document will be kept classified for five full years.

In Australia, journalists at The Age reported that experts say the proposed changes included within the WikiLeaks document "could undermine Australia's capacity to independently respond to and weather any future global financial crisis."

Dr. Patricia Ranald, a research associate at the University of Sydney and convener of the Australian Fair Trade and Investment Network, told the paper that the documents suggest the US wants to "tie the hands" of other governments, including allied ones, by way of sheer deregulation.

"Amendments from the US are seeking to end publicly provided services like public pension funds, which are referred to as 'monopolies' and to limit public regulation of all financial services," she said. "They want to freeze financial regulation at existing levels, which would mean that governments could not respond to new developments like another global financial crisis."

Earlier this week, US Trade Representative Michael Froman said the TISA deal was already well on its way to being put together.