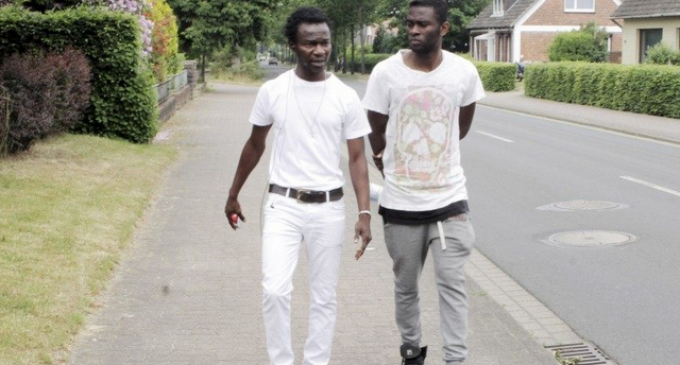 This is why Germany will cease to exist soon. Villagers in a tiny, rural area of Lower Saxony are shocked when they discovered their hamlet of a few hundred people will be forcibly overwhelmed with one thousand Islamist migrants in response to Angela Merkel's resolution to fling her country's borders open.
The hamlet sits on a minor country road lined with old-style half-timbered bungalows, family vegetable gardens and little farms. There is no real infrastructure or even local shops. There are a few empty office buildingsto house the refugees , but aside from pasture and apple orchards, there's really no much else.
A packed public meeting was held. It didn't go very well.
The mayor and local officials expressed shock that anyone could possibly be worried by so many newcomers. "I did not expect so many interested residents," the mayor began as an official from the Lower Saxony Ministry of the Interior looked on. 100 people being overwhelmed by 1,000 foreigners? Outrage followed!
Pragmatic issues were raised: How would sewage and waste disposal would be regulated? Is there a shuttle service for the refugees would be provided so that they could go shopping?
"How do we protect ourselves against crime?"was a prime query. A woman asked "is medical care guaranteed for the protection of all of us?" From a corner of the hall somebody pointed out the repeated threat. — the foreigners were  mainly single, young men arriving on the town's doorstep.  Would it be safe to leave the house after dark? Oh yes, the mayor assured them, "the street lights will remain on all night".
In Lower Saxony, the pressure to find accommodation is strong, the Interior Ministry explained to the meeting. Last year, almost 19,000 asylum applications were received, in 2015 there were already more than 75,000. Homes had to be found and the tenor of the meeting was that anyone who opposed that flow was xenophobic.

"Thousand are just too many", resident Dirk Hammer told the meeting. His family has lived for 400 years in the village. He wants as many as a "reasonable solution" would allow to "minimize disruption" but ultimately the feelings expressed were that residents were not consulted and now they were being forced to accommodated over 1,000 people in a village that has never been home to more than 100.
Source: Breitbart
Nearly half a million migrants have arrived in Germany already this year. The country is expecting at least 1.5 million in 2015. This overwhelming wave all over Germany leaves people having to live with the consequences.
It could be the end of Germany very soon.