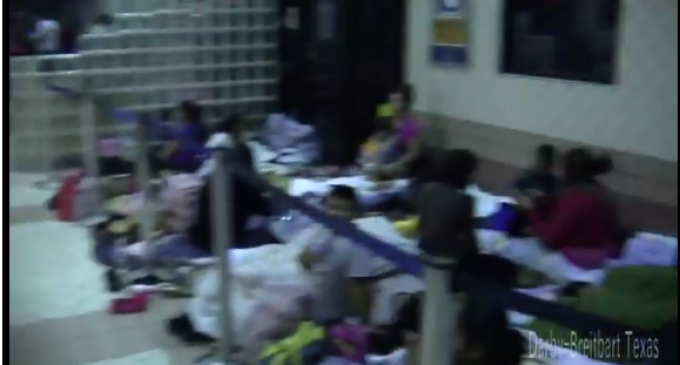 Videos show how thousands of illegal immigrants are being given free bus tickets to freely travel across the US with just a promissory note to appear in court.
Meanwhile, sources say Obama will ask for $2 billion and 'extra authority' in order to return the illegal minors to their country.
Can you smell a rat? The Obama admin invited these illegals here with their immigration policy announcements and are even giving them free bus tickets to disperse across the United States by the thousands, and now wants $2 billion and more power in order to return them home, which will be all but impossible after dispersing them across our country.
I think it's a safe bet that the $2 billion and extra powers that are to be granted to DHS will be used for 'other things'.
What happens to the illegal immigrants caught crossing the border? That question was answered with the release of this video, captured at the Laredo, Texas, Greyhound bus station over the weekend.

Hector Garza, a Border Patrol agent and spokesperson for the National Border Patrol Council Local 2455 spoke with Breitbart News about how the federal government is handling the influx of people pouring over the border.

"The majority of these people crossed the border illegally and were then dropped off here at the bus station, so they could continue to their final destination, and that destination is an American city near you," said Garza.

"This right here is border insecurity at its best. Our border is not patrolled, it's not being secured… our federal government is releasing thousands and thousands of illegal aliens into our communities."

According to Garza, the bus tickets they are issued are paid for by taxpayer money. The illegal immigrants are also issued notices to appear in court at a future date. Approximately 95% of them never return for court proceedings.
WASHINGTON — President Barack Obama is seeking more than $2 billion to respond to the flood of immigrants illegally crossing the U.S.-Mexico border and asking for new powers to deal with returning immigrant children apprehended while traveling without their parents.

A White House official said Saturday that Obama plans to make the requests of Congress in a letter to be sent Monday. The administration plans to work with Congress on additional legislative authority and send over a request for emergency funding.

The official says that details of the emergency appropriation will come after lawmakers return from their holiday recess on July 7.

"The Administration continues to address this urgent humanitarian situation with an aggressive Federal response on both sides of the border. Earlier this month, the President directed the Department of Homeland Security (DHS) and the Federal Emergency Management Agency to coordinate a Government-wide response, which includes fulfilling our legal and moral obligation to make sure we appropriately care for unaccompanied children who are apprehended, while taking aggressive steps to surge resources to our Southwest border to deter both adults and children from embarking on this dangerous journey, increase capacity for enforcement and removal proceedings, and quickly return unlawful migrants to their home countries," an official said.

The president will ask that the Homeland Security Department be granted the authority to apply "fast track" procedures to the screening and deportation of allimmigrant children traveling without their parents, as well as increasing penalties on those who smuggle vulnerable migrants like children across the border.