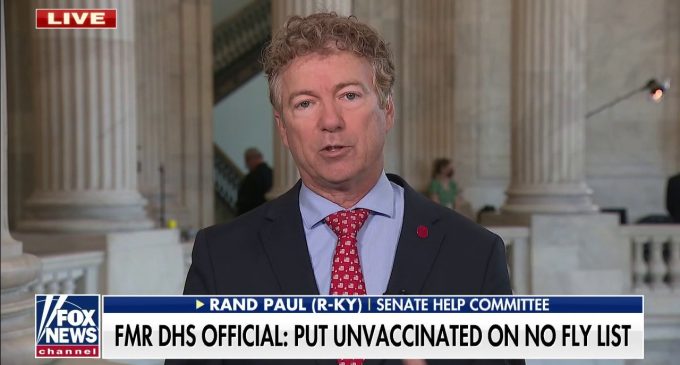 Texas Sen. Rand Paul is once again calling on Americans to resist lockdowns, mask mandates, and other 'harmful' policies imposed by 'petty tyrants.' In an op-ed published on the Fox News website, Paul blasted House Speaker Nancy Pelosi as being 'drunk with power' after the House put indoor mask requirements back in place.
"Speaker Nancy Pelosi — you will not arrest or stop me or anyone on my staff from doing our jobs. We have all either had COVID, had the vaccine, or been offered the vaccine. We will make our own health choices. We will not show you a passport, we will not wear a mask, we will not be forced into random screening and testing so you can continue your drunk with power rein over the Capitol,' he wrote.
Paul also went after Biden, warning he will attach an amendment to cut funding to every bill that comes through the Senate regarding federal agencies if the President shuts them down again.
Sen. Paul then offered some straightforward advice: Resist. Paul said: "They can't arrest us all. They can't keep all your kids home from school. They can't keep every government building closed – although I've got a long list of ones they should."
Turn the page for more + video.