Black Lives Matter groups across the country are taking a stand against All Lives Matter and Blue Lives Matter, but one college's Black Students Association is taking the fight to a whole new level.
University Black Students Association (@TTUBSA) reportedly tweeted a hate-filled message on the day before five Dallas-area police officers were ambushed by a lone gunman. The tweet was quickly taken down following strong community reactions.

The tweet sent out by @TTUBSA stated, "All lives don't matter [sic]… While lives don't mater… Blue lives don't matter… #BlackLivesMatter." Following negative responses from the community, the tweet was taken down and the account was closed. The account has since re-opened with a single tweet apologizing for the previous tweet.
Ah — the true colors of Black Lives Matter finally comes out. We've seen it many times before, obviously, but rarely is it so precise and in print for all to see.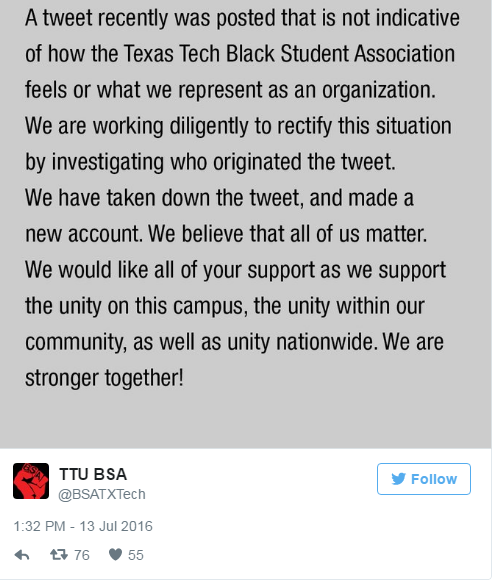 Source: Breitbart