Fortunately, Ogle is showing signs of improvement after suffering from a fractured skull and brain trauma, recognizing his mom and being able to follow simple directions, but he has a long way to go in the healing process, this a month before his eighteenth birthday.
The seventeen-year-old high school student, Brian Ogle, who showed his support for police officers on his Facebook page,  was found severely beaten last Friday night.  The police report that he was assaulted by a number of people, yet no arrests have been made.
The Sylacauga Police Department is investigating the assault of a 17-year-old, Sylacauga High School student, who was attacked by multiple suspects around 10 p.m last night near the Old Ace Hardware parking lot.

Once police arrived on scene they found the male victim bleeding from his head. According to authorities the victim was transported to Coosa Valley Medical Center, and later transported to UAB by life saver helicopter.
The racial tensions at the Sylacauga High School may be tied to the attack.  Students at the high school were wearing Black Lives Matter shirts, which spurred Ogle's Facebook comments in support of the police.
Police (sic) acknowledge growing racial tensions at the school could have played a part in this assault.
Ogle's mother, Brandi Allen, wants justice for her son, who is slowly recovering from his near fatal injuries.
"I want to see them in jail, this most certainly is a race issue, it's a hate crime." Allen said.

"I want them punished to the fullest extent, to the fullest, my son could have lost his life. I won't stop until they are punished." Allen said.
Police have not confirmed any of that, one thing they have said, they do not have any evidence that the organization Black Lives Matter played a part in this.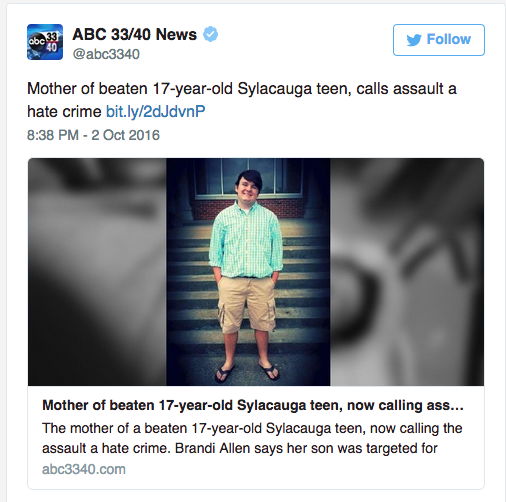 Source: WJLA