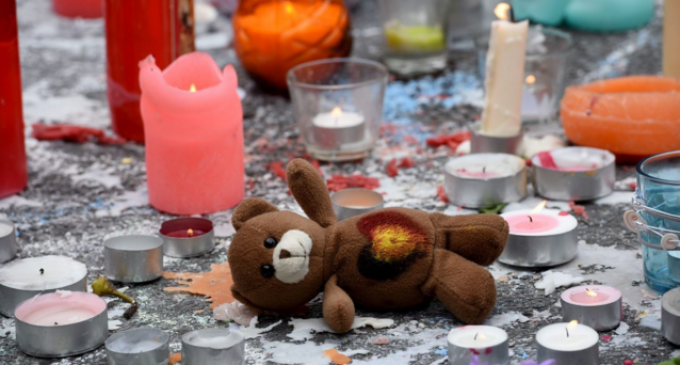 The response of many Westerners to the tragic terror attacks in Brussels has drawn potent criticism from at least one person.
Discussing the new social media trend of brandishing teddy bears and changing Facebook profile pics to the Belgian flag, Breitbart editor Raheem Kassam mounts a blistering attack on it in an editorial on the site. Not because what participants are doing is objectionable in and of itself, but because it accomplishes little.
Indeed, Kassam notes that many of the people who used the new Belgian flag filter probably did the same when Facebook introduced one for the French flag after the Paris attacks last year. He believes that the new filter will accomplish just as much as the old one did: that is, nothing at all.
What we need to do, according to him, is actually get serious about defending ourselves against an enemy that hates us and everything we stand for. This is the only course of action that will ensure another Brussels doesn't happen again.
See more on the next page:
Kassam explains that the teddy bears and flag filters are not about condemning terrorism so much as assuaging the consciences of liberals who feel guilty about such attacks but refuse to acknowledge the true nature of the problem. What they're interested in is showing "solidarity", not stopping serious threats to our security:
This word – most commonly associated with hard-left politics, trades union activism, socialism, and poseur indie rock bands – has come to mean very little in reality. In effect, "standing in solidarity" with someone now means that you have observed the situation, changed your Facebook profile picture accordingly, and patted yourself on the back.

And if like dead bodies Facebook profile pictures lost heat, it would be accurate to say that the Tricolores that adorned the social media profiles of many had hardly become cold before we were all changing the colours of the bands on the flags. From blue to black. From white to yellow. The blood red remains.

Because nowadays, teddy bears are the new resolve. They symbolise everything we have become in response to our way of life being threatened, and our people being slaughtered on our streets: inanimate, squishy, and full of crap.

Our security services and our police, hamstrung by political correctness, are just as interested (or more?) in rounding up Twitter "hate speech" offenders than criminal, rapist, or terrorist migrants. Our borders are as porous as our brains. We refuse to realise that there are now literally millions of people amongst us who hate us. Who hate our way of life, and who will, one day, dominate our public life.

But of course, such statements are dismissed as fear-mongering, alarmist, or "out of touch with reality". As if the data doesn't exist, or the demographics aren't shifting quickly enough to notice.

As if vast parts of our towns and cities haven't become ghettos, or no-go zones, or hubs of child grooming activity, or terrorism.

As if mosques, schools, prisons, and universities aren't used as recruiting grounds for radicals.

As if the blood of our countrymen hasn't even been spilled at all.

Instead, we will now think deeply about how we can "reach out" to these populations. How we can "co-exist" and "be tolerant" of one another. As if toleration – which is actually the permittance of what is not actually approved or desired – is a healthy aspiration for a society.

It is as if we model our countries on the practice of bending over and "taking one for the team", chastising those who fail to "tolerate" the most barbaric traditions of alien cultures. It is everything this cartoon – obviously branded "racist" – suggests.

"But come on, Raheem, not all immigrants, or Muslims, are criminals, or rapists…. you're not!" 

Yeah – and look at me. Excoriated daily by Islamists on Twitter. Why? Because I've integrated and I love my country. Because I refuse to believe that an Islamic caliphate is the best thing for Britain, or anywhere, quite frankly. Where is my white (or brown) knight? Where are the voices of the moderate Muslim world defending me? 

Not that I need protection, or defence, but some people aren't as hard headed or resolved as I am.

Thusly, the albeit minority evil amongst British Muslims is thriving because good Muslims are doing nothing. At some point, we have to question why. I'm not sure most people are ready for the answers to that one.

So continue to sit there with your head in your hands. Mourning only to make yourself feel better. Missing people you never knew. Exclaiming, as the most immature of minds does: "Why can't we all just get along?"

Expressing sympathy is no bad thing. But to be truly sympathetic towards someone under attack, one must be chivalrous, gallant, and unafraid.

Watching someone getting raped, and tweeting your solidarity with them is not enough. Human nature and goodness calls upon us to intervene. To assist. To free someone from their torture, and to save them from their demise.

It is not enough to scrawl "no fear" on a post it note, and stick it onto some £3 flowers.

We must be fearless in electing leaders who we feel will best keep us safe. It is one of the few areas of our lives in which we should be able to feel comfortable. We pay our taxes, you keep us safe.

If not, then we must arm ourselves. If our governments refuse to protect us, or even begin to use the tools with which we empower them against us: surveillance, counter-terror laws, detention, then we will need to take the law back into our own hands. We cannot be afraid of doing so. It is where our societies all sprung from.
Source: Breitbart