President Obama's refugee resettlement program has imported a Syrian sexual predator to the town of Lowell, Massachusetts.  Because of Obama's impetuous push to bring in more than 100 Syrian refugees a day into the villages and towns of America, young girls, like the 13-year-old Lowell girl or the Twin Falls 5-year-old, have been forever marred by sexual assault at the hands of these foreign immigrants.
How does Obama plan to vet all of these immigrants, specifically identifying those who are sexual predators?  Simply answered, he doesn't.  The safety of the American is not his concern, but rather his legacy of being the man who opened the doors to the refugees, at any cost.
Emad Hasso, 22, allegedly harassed and grabbed a 13-year-old girl repeatedly on Thursday in a swimming pool until a lifeguard intervened, according to the Lowell Sun:

Prosecutor Sam Miller said that around 5:30 p.m. on Thursday, the 13-year-old Lowell girl was at the Raymond Lord Memorial Pool at the North Common Park in Lowell when she said a man approached her, touched her upper thigh and asked her age.

The girl told him she was too young for him and walked away, Miller said.

The man, who was later identified as Hasso, allegedly began to follow the girl around the pool and approached her again when she was swimming, touching her upper thigh and again asking her age.

The girl responded that she was a "little kid, leave me alone," Miller said.

Other people at the pool, including the lifeguard, saw some of the interaction between Hasso and the alleged victim, and intervened, Miller said.

Police said the incident may have been captured on video security cameras at the pool.
Condemnation of the pool attack was passionately decried by Pamela Geller, an ardent activist against jihad and radical Islam.
"Pool sex attacks are rampant in Europe. Pool sex crimes in Germany are rampant.  Widespread sexual pool assaults in Sweden have been by 'unaccompanied refugee children.' Things are so bad in Austria, Muslim refugees have been banned from public pools. And now Obama and his party of treason and destruction are insuring the same fate for our daughters, sisters, wives."
Obama might want to dip into his own pockets and provide for the necessary counseling both little girls will need after the sexual attack perpetrated upon them, due to his misguided policy to flood this country with immigrants.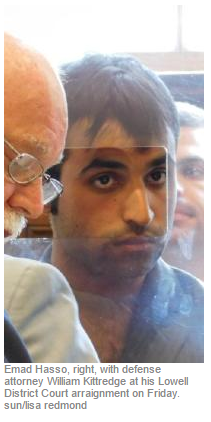 Source: Breitbart