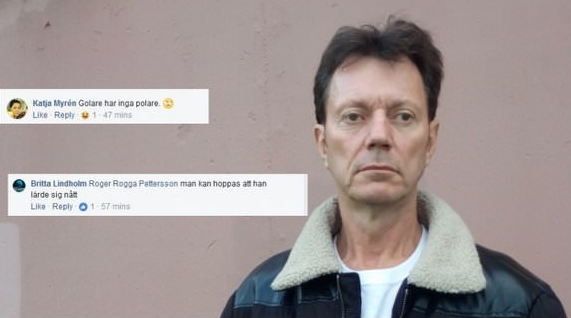 A Swedish dentist, Bernt Herlitz, was fired and in danger of losing his home after reporting a peculiar phenomenon he noticed while treating refuge "children".
They were not children.
 Swedish dentist Bernt Herlitz revealed to authorities that after checking the molar teeth of hundreds of migrant children that 80% of the so-called children were actually adults.
Here is the full scope as reported in the local Swedish news.
Dental hygienist advised the Migration Board about adult "unaccompanied" – was therefore kicked out of work. Now the entire family property can be confiscated by the region of Gotland, who hired a star lawyer.

It was in July last year that at the time 56-year-old dental hygienist Bernt Herlitz with his wife looked into one of Almedalen's seminars dealing with age assessment in the judiciary and in the sports world. The theme was urgent for the couple because both of them worked at the Public Health Service in Visby, where many of the so-called unaccompanied refugees turned their teeth. In 2016, the debate on unanimity rose – not least because of the high cost of living, which in some cases could be 6-8 thousand kronor per day.

"I would probably appreciate that up to 80% of them were obviously adults. This can be seen, for example, on wisdom teeth that were fully grown – something that is only seen in adults, Bernt says.

"The suspicions must be reported"

The subject was a snack in the breakfast room, but nobody knew how to ignore the suspicion, according to Bernt. In the aftermath seminar Seminaria participated, among others, Åsa Carlander-Hemingway, a unit manager from the Swedish Migration Board, who told the couple that it is important at the right age and that all suspicions should be reported to the Swedish Migration Board.

Said and done – when he returned to work in August that year Bernt began to advise the Migration Board about his suspicions. In total, he sent more than 8 emails where he stated that he was a dental hygienist and felt that the age stated in the Migration Board's actions was wrong.

– It is important that the right thing is right – not least because adults do not live with children.

Little Bernard thought what would happen next. He never received any response from the Swedish Migration Board. Instead, one of the official officials forwarded his e-mail to a good man for one of the people the tips were about. Good man, in turn, contacted Bernt's head at Folktandvården, Mats Kvarnberg. It did not take long before a full commitment was started.

"The manager asked me to come to a single room where there was also another senior manager from the employer, the region of Gotland. They told me I will not go to work tomorrow, that I'm turned off and that there will be an investigation.

How did it feel?

– It felt heavy. But I did not realize the seriousness of it yet. I told you that the woman from the Migration Board had said that I would report. I thought it would be done in a few days and I could get back to work.

But, really, it did not. 14 days later Bernt was dismissed after 10 years of service at Folktandvården. The employer said he broke patient confidentiality, which would have been for his patients.

All three local newspapers on Gotland described him as a dangerous lawyer and turned on right-wing extremists as "age-rated refugees on their own behalf". The news also reached SVT .

– They wrote about me on the first page without even contacting me. One felt so enormously exposed. Sure, they have not printed my name but Gotland is a small place and everyone knows everyone so it's not hard to figure out who it's all about.

But Bernt is neither right-wing or even politically active. His fate is time-consuming in many ways. He is a native gown and has lived all his life on the island. Prior to public care, he worked to build mobile base stations at a factory previously owned by Ericsson. The factory was acquired by Flextronics, which eventually moved production to Hungary and in 2003 closed the business in Visby. Bernt was dismissed.

That's when he and his wife decided to go for a three-year education at Umeå University to become dental hygienists.

"It would be a reboot for us," says Bernt.

And then they got a job pretty quickly after finishing education, at the same public health service in Visby.

"It's quite run for me"

"Job is the most important thing. Everything revolves around it. If you have no job, you have no money, no spare time.

Therefore, he decided to take the fight to get his job back. Bernt's trade unions refused to help him because he accidentally left the trade unions a couple of months before this happened. This means that he had to pay for legal aid from his own pocket. However, the frustration and upset of the unfair treatment he considers to have been subjected to the region of Gotland was so great that he took it up.

"I am 57 years old and that means that it is quite run on the labor market for me. Region Gotland is a big employer in my industry on the island and no new employment with them is excluded. There are some private options but their interest always ended after the question "Why did you end up at the Region Gotland?".

Bernt tried to find a job on the mainland. He managed to get a temporary contact in Kalmar County where he commuted with the ferry from the island for three-day shift. In the long run, however, it did not work. At the same time, his wife, who worked in the same workplace, had to go down to half-time and then resign completely.

"She suffered from health problems because of this whole sad situation. It became impossible to proceed simply. It also did not help some colleagues start looking at her, explains Bernt.

In other words, no one had a couple of jobs when a verdict came from Gotland's district court after nearly a year's long trial. The District Court's assessment was that there was no reason for dismissal. On the other hand, the employer had the right to terminate Bernt. In the verdict, the district court maintains that a breach of patient secrecy had occurred – but stressed at the same time that it has not been found that the victims suffered injury because of it and that there may be some exceptions to confidentiality.
This is not the 1st time this happened either.
In June 2016 two migrants were arrested in February for raping a twelve year-old boy at a housing center for unaccompanied migrants in Sweden. The men said they were 15 but social media shows they were born in 1997 and 1971.
Why does the left want refuges to come into our countries so bad? Why lie if it is really a good thing? Why pretend they are children if they are all good people as they claim?
Sweden – Dentist noticed adult molars from migrants claiming to be children

Dentist Bernt Herlitz is quickly fired and will be homeless https://t.co/n0dPtEfUbm

— Hardhat Patriot (@Hardhat_Patriot) October 11, 2017
Source: Gateway Pundit