As many economies rely on high the price of oil to survive, what is happening off the coast of Galveston, Texas may be cause for alarm.
JBC Energy, a consultancy, said in many regions onshore oil storage is approaching capacity, arguing oil prices may have to fall to allow more to be stored profitably at sea.

"Onshore storage is not quite full but it is at historically high levels globally," said David Wech, managing director of JBC Energy.

"As we move closer to capacity that is creating more infrastructure hiccups and delays in the oil market, leading to more oil being backed out on to the water."

Patrick Rodgers, the chief executive of Euronav, one of the world's biggest listed tanker companies, said oil glut was so severe traders were asking ships to go slow to help them manage storage levels.

"We are being kept at relatively low speeds. The owners of the oil are not in a hurry to get their cargoes. They are managing their storage capacity by keeping ships at a certain speed."

As a result of all this, something very unusual going on off the coast of Galveston, where more than 39 crude tankers w/ combined cargo capacity of 28.4 million bbls wait near Galveston (Galveston is area where tankers can anchor before taking cargoes to refineries at Houston and other nearby plants), vessel tracking data compiled by Bloomberg show, which compares w/ 30 vessels, 21 million bbls of capacity in May. Vessels wait avg of 5 days, compared w/ 3 days May.

As AP puts it, "a traffic jam of oil tankers is the latest sign of an unyielding global supply glut."

More than 50 commercial vessels were anchored outside ports in the Houston area at the end of last week, of which 41 were tankers, according to Houston Pilots, an organization that assists in navigation of larger vessels. Normally, there are 30 to 40 vessels, of which two-thirds are tankers, according to the group.

Although the channel has been shut intermittently in recent weeks because of fog or flooding, oil traders pointed to everything from capacity constraints to a lack of buyers.

"It appears that the glut of supply in the global market is only getting worse," said Matt Smith, director of commodity research at ClipperData. Several traders said some ships might have arrived without a buyer, which can be hard to find as ample supply and end-of-year taxes push refiners to draw down inventories.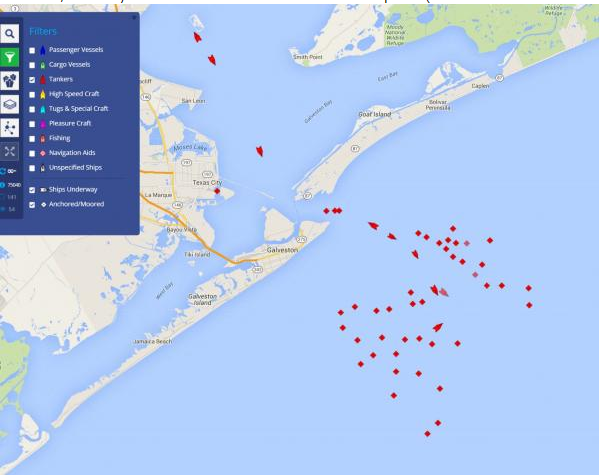 Could this overabundance of oil cause a global economic crash, or is it simply poor planning and infrastructure on the part oil governments and oil companies? Its hard to say, but time will tell.
Source: Zero Hedge