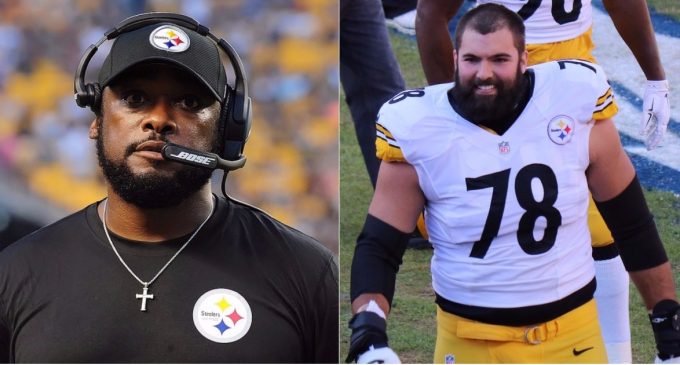 You can sit down or get on your knees to protest the national anthem, but God forbid an army vet stand to honor our nation.
Steelers coach Mike Tomlin is going after one of his players, Afghan war veteran, Alejandro Villanueva for being proud of the country he risked his life to protect.
The majority of the Steelers decided during a team meeting to hide in their locker room like cowards instead of stepping to the sidelines (as NFL league rules require) for the playing of the national anthem.
One man refused to be a sheep and play the liberal hashtag activism game for a cause they can't even clearly define because let's be honest – alleged police brutality hasn't changed one lick since Trump started his successful presidential campaign.
And unlike the guy who started this whole controversy, Colin Kaepernick's, whose activism consists of posting pictures of cops depicted as pigs to his social media accounts and dropping to his knees, Villanueva knows the cost of freedom of speech and the protection thereof. As such Villanueva is one of their targets.
Continue to the next page to hear what Steelers coach Mike Tomlin had to say about Alejandro Villanueva having the audacity to be proud of his country, and the men fighting to keep multi-millionaire meathead athletes like Kaepernick safe at night.